Watertown commercial roofing company serving southeast/south central Wisconsin
U.S. Roofing is located in Watertown, WI, serving SE & south-central WI. Call us at 920-261-7032 or send us a message for a free quote.
Get a Free Quote
U.S. Roofing is the roofing contractor of choice for all types of commercial buildings with flat rooftops. Higher quality & lower prices make us the best commercial roofers for repair, maintenance, replacement & new construction.
When it comes to commercial roofing contractors in Wisconsin, no one has a greater history of customer satisfaction than U.S. Roofing. Most of our business comes from repeat business and referrals because our customers never have a reason to look elsewhere.
Since 1979, U.S. Roofing has performed all types of roof repair and installation of commercial flat roof systems. Any materials, any service. All we do is work on commercial flat roofs, and we've got it down to a science.
Save money on commercial roofing
High quality products, low overhead and lower price points than the giant commercial roofing contractors is what makes U.S. Roofing the best commercial roofing company in Wisconsin.
Factor in our customer service, superior TPO roofing products and 20-year workmanship warranty, and you've found the best commercial roofing value in Wisconsin.
On average our flat roof systems cost 10% to 30% less than competitors.
Free commercial roofing consultations
U.S. Roofing will assess your situation to repair your commercial roof whenever possible and provide a long-lasting replacement roof when the time is right.We build, maintain and repair all types of commercial roofing systems and materials including flat roof waterproofing.
What's the best material for a commercial roof?
TPO roofing membrane systems are the best! We've considered the pros and cons of every flat roof type. TPO roofing systems cost less, last longer and are easier to repair and replace.
Our contractors install durable, energy efficient TPO roofing systems from Firestone, Carlisle, and Versico with solid warranties and unbeatable quality. Every member of our professional commercial roofing crews has many years of experience installing and repairing commercial roofs.
We'll fix or replace your flat roof using whatever materials you choose, though we believe TPO systems offer the best quality, performance and value for Wisconsin businesses.
Commercial roofing services you can rely on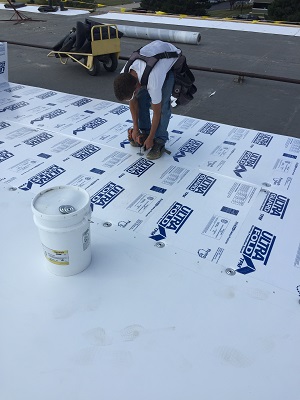 Contact U.S. Roofing for commercial roofing done right.
When you choose U.S. Roofing you get the fastest, most reliable commercial roofing services in Wisconsin. We don't spend months dinking around your building with our commercial roofing trucks and signs out front for everyone to see—we get in, get out, and get the job done right the first time. You get a better roof at a better price with better service than with other Wisconsin roofers.
U.S. Roofing commercial roofing contractors are 100% English speaking U.S. citizens. U.S. Roofing performs background checks and drug testing on all potential employees. Most of our roofing crew has been with us for 5+ years. U.S. Roofing has the most dependable crew in the Wisconsin commercial roofing industry!
From bowling alleys to supermarkets to banks and restaurants and more, our commercial roofing installations have stood the test of time. Check out pictures and videos of our roofers at work and contact us for excellent client references.
Commercial roofing for practically any business
Our experienced team of roofing contractors provides reliable, high-quality roofing services to commercial buildings across Wisconsin. We offer a range of roofing services to fit any budget or building type, including:
Retail stores & shopping malls
Hotels
Restaurants, bars, cafes
Office buildings
Garages & repair centers
Hospitals, clinics & nursing homes
Gyms and sport facilities
Storage facilities
If you do business under a flat roof, contact U.S. Roofing for reliable, cost-effective roofing services.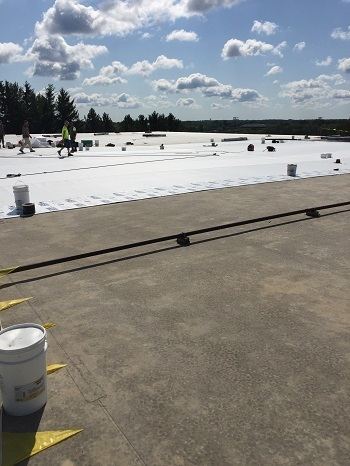 We handle commercial roofing projects of all sizes.
You want a REAL commercial roofing contractor
Unlike many commercial roofing companies, U.S. Roofing salespeople have all worked on roofs themselves and know the Wisconsin commercial roofing industry backwards and forwards. When you contact us you'll get a real commercial roofing consultation, not a sales pitch from some guy who was selling used cars a couple of months ago.
Contact U.S. Roofing to schedule a free consultation on the best course of action for your commercial roof. We'll find the best way to stretch your dollars while making sure your roof is protecting your building and your assets.
Wisconsin commercial roofing contractors
Headquartered in Watertown, U.S. Roofing is the trusted choice for commercial flat roof construction and service in southeast and south central Wisconsin.