Commercial Roofing Contractors for Waukesha County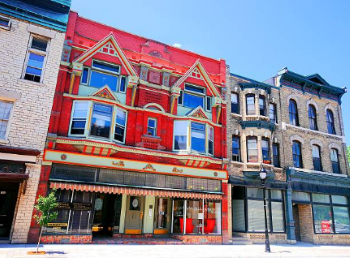 Industrial and commercial flat roof services in Waukesha, Wisconsin.
Call U.S. Roofing at 920-261-7032 for a free estimate.
Get a Free Quote
U.S. Roofing is based in Watertown, WI, about 40-minute drive from Waukesha. Our service area includes all of Waukesha County and the Waukesha metro area including: Hartland, Wales, Genessee Depot, Vernon, Ottawa, Saylesville, Sussex, Hartland, Dousman, Waterville, Delafield, Nashotah, Oconomowoc, Eagle, Mukwonago, Big Bend, Muskego, New Berlin, Brookfield, Menomonee Falls and the surrounding communities.
Why choose U.S. Roofing?
We ONLY do commercial flat roofs, and our experienced roofing crew has decades of experience installing all types of commercial roofing systems in Waukesha. We know Wisconsin state and local building codes for YOUR industry and will make sure your roofing system meets or exceeds them.
Save 10% - 30% on your Waukesha County flat roofing project
We use the latest technology in the commercial roofing industry and keep overhead low. Our superior flat roofing systems cost 10% - 30% less than anywhere else. Call or email us for a free estimate!
Commercial Flat Roof Services in Waukesha
Waukesha building owners have hired U.S. Roofing, Inc. to install, repair and maintain their commercial building flat roofs. We repair leaking and torn roofs and replace aged, rusted-through roofs. We also install new flat roofing systems for new buildings, including offices, malls, grocery stores, department stores, cold storage warehouses and more.
Industrial Roofing Contractors serving Waukesha
U.S. roofing specializes in flat roof systems for industrial buildings in Waukesha. In most cases, TPO membranes are the best material for your flat roof. Whether you need a full flat roof replacement or repairs, we've got it covered. No matter what type of commercial roofing material or flat roof coating you need, we have years of experience working with it. We'll use any materials you specify or gladly make a recommendation for your building.
Waukesha County commercial flat roof contractors
We've been building, repairing, and maintaining commercial flat roof systems in Waukesha County for more than 40 years. If your commercial or industrial building is located in Waukesha County, get a free quote from U.S. Roofing to see how much we can save you.
From our Watertown headquarters to downtown Waukesha:
Waukesha City Hall
201 Delafield St.
Waukesha
, WI USA
53188
...according to Google it takes around forty minutes. The entire city of Waukesha and all cities in Waukesha County are within our service area. Call us for a free estimate today!
Free flat roof cost estimates in Waukesha County
Whether you need a flat roof coating for an office building in Pewaukee or reroofing on a manufacturing plant in Butler, no one does it better than U.S. Roofing. Call or contact us online to request a free roof inspection and cost estimate.
Waukesha County is the third largest county in Wisconsin with 37 municipalities. Just 15 miles west of Milwaukee, Waukesha residents get to take advantage of living near a big city and avoid the lake effect. Waukesha County has one of the lowest unemployment rates in Wisconsin, and over a quarter of its workers are employed in manufacturing services. We're proud to offer the best value in commercial flat roof services throughout Waukesha County including 53072, 53186, 53187, 53188, 53189.