Commercial roofing contractors in Middleton WI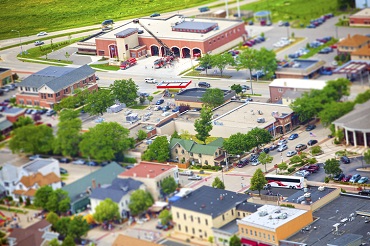 Industrial and commercial roofing services in Middleton, Wisconsin.
Call U.S. Roofing at 920-261-7032 for a free estimate.
Get a Free Quote
U.S. Roofing has been providing high-quality roofing services in Middleton and throughout Dane County for decades. A leader in the industry since 1979, we provide the best commercial roofing systems in south-central Wisconsin.
Why choose U.S. Roofing?
Our bread & butter is commercial/industrial flat roofing systems. It's all we do, and we do it well. You wouldn't go to your local pool boy to check the pH levels of an Olympic pool, so why go to small-scale residential or inexperienced "just a summer job" roofers to work on your business? We provide full-time commercial roofing specialists that know the industry in and out. Our experts tackle each job with precision and efficiency, we'll get in and out without disrupting your businesses day to day work.
We provide for a wide variety of commercial roofing jobs like offices, banks, hotels, restaurants, warehouses and more.
Services include:
Every new roofing system we install comes back with a 20-year workmanship warranty. Our commercial roof contractors make sure to strictly adhere to manufacturer guidelines and specific codes for your industry. Failure to follow code can mean your warranty becoming void. At U.S. Roofing we don't let that happen.
Save 10% - 30% on commercial roofing systems
With the latest technology in the commercial roofing industry, we manage to keep overhead low and save our customers money. Contact us today for a FREE QUOTE. We'd be happy to send one of our commercial roofing specialists over to get an appraisal for your flat roofing system. We won't suggest any services that you don't need, and a quote is absolutely free, so what do you have to lose?
Industrial roofing contractors serving Middleton
U.S. roofing specializes in the installation, repair, and maintenance of flat roof systems for industrial buildings. We repair leaking and torn roofs and replace old, rusted-through roofs. New building? We install new roofs! We have plenty of commercial roofing material options:
Modified bitumen
Gravel
EPDM (rubber roofing)
PVC (thermoplastic)
Spray foam (SPF) roofing
...and more
Our most popular option and the roofing material we recommend most for Wisconsin buildings is TPO roofing. TPO is a single-ply roofing membrane that can be mechanically attached to an existing roof in a single layer, making installation faster and reducing labor costs. TPO can also save you money in repairs/maintenance because of its flexible, durable, impact-resistant nature, AND can lower your cooling costs in summer by reflecting UV rays.
Other TPO roofing benefits include:
Incredible leak resistance due to heat-welded seams
Withstands temperature swings & freeze-thaw cycles
Mold and algae resistant
Eco-friendly – 100% recyclable
Free cost estimates for commercial roofing services
U.S. Roofing is based in Watertown, WI, less than an hour from Middleton. Give us a call, we'd be happy to send one of our professional roofing contractors over for free quote on commercial or industrial roofing services. We have history with Dane County; building, repairing, and maintaining commercial flat roof systems in the area for more than 40 years. All of Middleton and the surrounding communities are within our service area including Ashton, Shorewood Hills, Cross Plains, Marxville, Springfield Corners, Waunakee, Westport and Maple Bluff.
Contact U.S. Roofing today for a free quote on commercial roofing services in Middleton.