Madison Commercial Roofing Contractors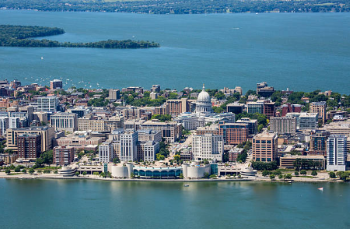 Industrial and commercial flat roof services in Madison, Wisconsin.
Call U.S. Roofing at 920-261-7032 for a free estimate.
Get a Free Quote
We provide complete commercial and industrial roofing services for buildings of all sizes (with flat roofs) in Madison and nearby cities.
Unlike roofing contractors who only turn to commercial work when the residential jobs dry up, we ONLY roof, repair, and reroof commercial and industrial properties. You can rest assured our roofers are highly experienced, fully insured and will make sure your roofing system meets or exceeds building codes for your industry.
Why choose U.S. Roofing?
We've been building, fixing, and replacing commercial and industrial roofing for over 40 years, right here in Wisconsin's heartland. Our local roofers are all full-time employees at the top of their game.
As a privately-owned commercial roofing company with a well-defined niche, we're able to keep our overhead to a minimum. We invest in the latest technology used in the commercial roofing industry to make sure our services are as safe and efficient as possible.
By keeping our processes efficient and overhead low, we're able to pass on price savings to our clients – to the tune of 10% to 30% less than bigger competitors.
Our goal is to help you save money by getting the longest safe service life out of your current roof. We'll only recommend replacement when it's truly necessary, and explain your most cost-effective options.
See for yourself: request a free roofing consultation or cost estimate today.
Commercial Flat Roof Services in Madison
We repair leaking and torn roofs and replace aged, rusted-through roofs. We also install new flat roofing systems for new buildings, including offices, malls, grocery stores, department stores, warehouse and distribution centers and more. Our commercial roofing contractors do it all: from snow removal and waterproofing to retrofitting a commercial flat metal roof into an insulated TPO (or other single ply membrane) roofing system.
Learn more about our commercial roofing services:
If your commercial or industrial building is located in or near the city of Madison, get a free quote from U.S. Roofing to see how much we can save you.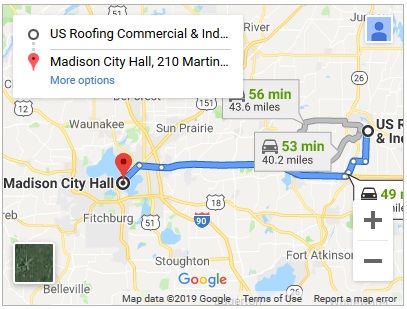 From our Watertown headquarters to downtown Madison:
Madison City Hall
210 Martin Luther King Jr. Blvd.
Madison
, WI USA
53703
...according to Google it takes around an hour. The entire city of Madison and its surrounding communities are within our service area.
Industrial Roofing Contractors serving Madison
U.S. Roofing, Inc. specializes in repairs, replacement, installation and maintenance for industrial flat roofs in and around Madison. In most cases, TPO membranes are the best material for your industrial roof. Whether you need a full industrial roof replacement, repair or some preventative maintenance, we've got you covered.
We have experience working with all types of industrial roofing materials and flat roof coatings, and our contractors will use any materials you specify. If you need help choosing the best material for your building and budget, we're happy to make a recommendation.
Why we recommend TPO membrane for most Madison commercial roofs
Keeping moisture out of your commercial building is paramount. TPO is very durable and has heat-welded seams creating a completely watertight surface. It endures Wisconsin weather well, and reflects heat in summer to help reduce cooling costs. Learn more about the benefits of TPO and why we believe it's the best value.
Free flat roof cost estimates in Madison, Wisconsin
Madison, Wisconsin is the state capital, county seat (Dean County) and home to the University of Wisconsin-Madison. Located on an isthmus between lakes Mendota and Monona, Madison has multiple nicknames including Madtown, Mad City and the People's Republic of Madison. Madison also has several National Historic Landmarks, a zoo, a regional Google office and plenty of bike trails and parks.
U.S. Roofing is based in Watertown, WI, less than an hour from Madison. Our service area includes the greater Madison metro area and the nearby cities: Monona, McFarland, Fitchburg, Verona, Middleton, West Middleton, Cottage Grove, Five Points, Sun Prairie, Marshall, Deerfield, Lake Mills, Johnson Creek and many others.
We're proud to offer the best value in commercial flat roofing throughout the state capital including 53532, 53558, 53562, 53590, 53593, 53597, 53703, 53704, 53705, 53706, 53711, 53713, 53714, 53715, 53716, 53717, 53718, 53719, 53726, 53792.