Warehouse Roofing Contractors
Warehouse roofing installation & repair in southeast Wisconsin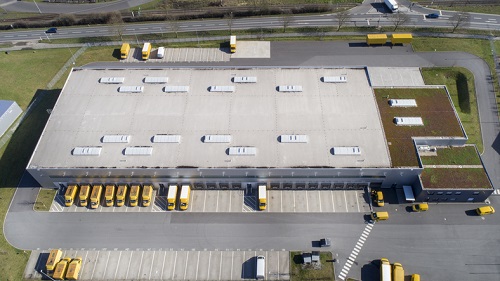 We install, maintain & repair warehouse roofing systems in SE Wisconsin.
Since 1979, our warehouse roofing contractors have been installing roofing on industrial warehouses across southeastern Wisconsin from Milwaukee to Madison, Janesville to West Bend and everywhere in between.
We use only the highest quality roofing materials and adhere to all Wisconsin commercial building codes so you can rest easy knowing your facility and employees are protected. All our installations are backed by our 20-year workmanship warranty, and we meet or exceed all manufacturer installation guidelines to ensure full coverage by their product warranty.
Trusted by some of the leading industrial businesses in Wisconsin, our quality work speaks for itself. We can also provide professional references, just ask!
Warehouse Roofing Types
U.S. Roofing specializes in the installation of flat roofs for industrial and commercial warehouse buildings. Other roofing companies often spend their summers installing asphalt and shingle roofs for residential homes, only turning to businesses in the off-season when the residential money dries up. We keep our focus on industrial roofing.
Our industrial roofers have experience working on all types of warehouse roofs including:
General warehouses – these can be heated or unheated warehouse buildings with different types of areas like bulk, rack & bin storage, shipping and packing, shipping and receiving, offices and aisles.
Cold storage warehouses – these include spaces for refrigerated and frozen storage of perishable goods, or other types of materials that require cold temperatures. Usually also includes mechanical areas and processing facilities.
Controlled humidity warehouses – also called CH warehouses, these are similar to general warehouses but have vapor barriers and equipment to maintain humidity levels within a specified range.
There are also specially designed warehouse buildings for unique storage requirements like liquids, combustible/flammable materials, radioactive materials, ammunition, or hazardous chemicals.
No matter what type of warehouse building you have or how tough the building codes are, you can rely on US Roofing to build, repair or maintain a flat warehouse roofing system meeting all required codes and keeping your property safe.
Warehouse Roof Design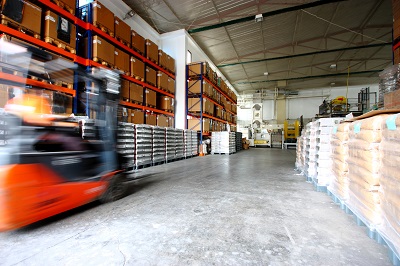 Our reliable warehouse roofing systems protect your assets.
Warehouse roof design typically includes extra structural capacity in anticipation of rooftop equipment that may need to be added. A higher than normal fire protection capacity is also common in warehouse roof design, especially when products with high plastic content and shrink-wrapped pallets are a factor.
Another important consideration in warehouse roof design is resistance to high winds. Wisconsin commercial building codes recognize the tendency for higher wind speeds in open areas where warehouses are usually located. This pertains to wind-driven rain, snow, and ice as well.
Best practices in warehouse roof design specify a light-colored roofing system to reflect heat from sunlight, keep workers comfortable and conserve energy. The bigger the flatroof, the more important it is to choose an energy-efficient flat roofing system like TPO membrane. It's also recommended to use white painted metal for the roof decking which improves lighting efficiency indoors.
Older, smaller warehouse buildings often have lower roofs and aren't ideal for large industrial operations. We also provide installation, repair, and maintenance for the emerging trend of "flex" warehouses which often house multiple tenants.
Warehouse Roof Materials
We'll work with any warehouse roofing materials including:
TPO
EPDM/Rubber Roofs
PVC Roofs
Built-Up Roofs (Asphalt)
Modified Bitumen Roofs
Spray Polyurethane Foam (SPF) Roofs
Gravel Roofs
Acrylic Roofs
Green Roofs
We only use high-quality materials, and by keeping overhead costs low we routinely price our work 10% to 30% less than other commercial roofing companies. 99% of our installations are TPO membrane roofing systems, which we highly recommend for any project.
If you're not sure which type of roofing would be best for your warehouse building, call U.S. Roofing to request a free consultation.
Cold Storage Warehouse Roofing
As the name implies, cold storage industrial buildings need to be kept cold–and that means they need properly insulated roofs. Trusted by leading Wisconsin food product businesses, our industrial roofing contractors have the expertise to help keep perishables and other temperature-sensitive products safe.
Storing food products requires compliance with pages and pages of state and federal codes, along with a slew of FDA standards. US Roofing knows and meets these guidelines on every project. You can trust U.S. Roofing to install a durable, heat-reflective TPO membrane roofing system backed by a 20-year warranty and rest easy knowing your temperature-sensitive products will be safe.
Warehouse Roof Repair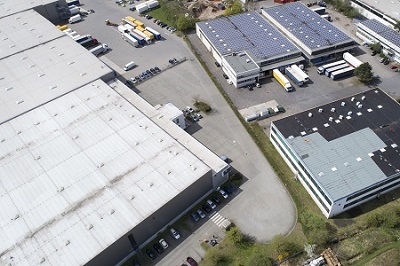 Get the most life out of your warehouse roofing system by partering with US Roofing.
If your warehouse flat roof needs repair, we're your best resource, even if we didn't build it. A common question we get from commercial warehouse building owners or facility managers is whether they should repair or replace their warehouse roofing system.
The best way to answer this question is with a free roof inspection from our warehouse roofing contractors. We'll give you our honest opinion on your best move, and always try to help you get the longest possible service life out of your existing roof.
If you notice a leak or otherwise suspect your warehouse roof needs repair, call right away! Small issues can quickly snowball into more expensive problems if they're not addressed promptly. We also offer preventative maintenance for warehouse roofs which can extend the life of your roof and save you a lot of money in the long run.
Warehouse Roofing Insulation
Looking for an easy way to enhance the insulation on your roof? Delta Foam Technologies, a division of U.S. Roofing, can install Spray Polyurethane Foam (SPF) to help keep heating and cooling costs down. SPF can be sprayed directly on cleaned asphalt, shingles, metal wood and even concrete surfaces. It fills gaps, seams and cracks to better insulate buildings, and resists damage from UV rays.
Warehouse roofing service area
Based in Watertown WI, our TPO roofing contractors have installed thousands of durable, waterproof warehouse roofing systems in Milwaukee, Waukesha, Madison, Janesville, West Bend, Beaver Dam and throughout Southeast Wisconsin.