Commercial roofing contractors in DeForest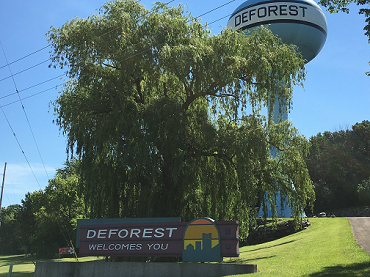 Industrial and commercial roofing services in DeForest, Wisconsin.
Call U.S. Roofing at 920-261-7032 for a free estimate.
Get a Free Quote
U.S. Roofing has been providing the best commercial and industrial roofing systems in Wisconsin for over 40 years. Located in Watertown, we're less than an hour from DeForest and provide commercial and industrial roofing services throughout DeForest and the greater Madison area. Protect your business, commercial property and employees by entrusting the care of your roof to experienced professionals.
Contact us today and get a free quote for any of our roofing services:
Choose Wisconsin's commercial & industrial roofing specialists
With four decades of experience under our belt, we've learned a thing or two about providing the optimal service for Wisconsin commercial & industrial roofs. Whether your property is a bank or a power plant, you need specialist help, something that residential roofing companies can't always provide. When it comes to commercial jobs, our roofing contractors are unparalleled.
Our seasoned full-time roofers work with just about any roofing material you want, but for Wisconsin businesses, we like to recommend durable, weatherproof options. For businesses in our area, TPO roofing offers the greatest value because of its resistance to harsh weather and temperature fluctuations.
We provide a 20-year workmanship warranty on every job. Our contractors always treat manufacturer guidelines and building codes with the utmost importance. Failure to follow code means your warranty is in danger of being void – and that's one thing we won't let happen.
Get a FREE quote from a REAL roofer
The first question we always hear is: How much is this going to cost me? The short answer is - our prices come in 10% - 30% cheaper than our competitors. The long answer is – we can't give you an exact price until we assess the situation. Getting the best price on commercial roofing services is only a phone call or email away.
Some roofing companies only turn to commercial jobs when the residential work dries up. Not U.S. Roofing. Call or contact us online and we'll send a local professional with actual commercial roofing experience to evaluate your roofing system and give you an honest recommendation. If we can help you get more good years out of your existing roof, we will.
U.S. Roofing is proud to provide the best value in commercial & industrial roofing services in DeForest and surrounding areas including Windsor, Token Creek, East Bristol, Morrisonville, Leeds, Arlington, Lodi, Dane and anywhere south-central Wisconsin.
Contact U.S. Roofing today for a free quote on commercial roofing in and around DeForest.