Commercial & industrial roofing specialists in Edgerton, WI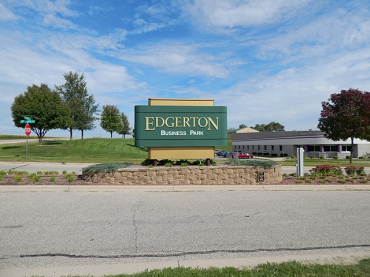 Industrial and commercial roofing services in Edgerton, Wisconsin.
Call U.S. Roofing at 920-261-7032 for a free estimate.
Get a Free Quote
Since 1979, U.S. Roofing Inc. has been protecting all shapes and sizes of Wisconsin buildings. We have the most reliable roofing contractors in the state with proven expertise in all types of industrial & commercial roofing services:
Contact us for a free estimate and we'll send someone with real roofing experience to come take a look.
Cost-effective flat roof materials
On average, Edgerton business & industry saves 10%-30% on flat roofing services with U.S. Roofing. Our contractors work fast and efficiently to keep our overhead low and your costs even lower. We work with you to figure out the best roofing options for your building based on budget, size, climate, and how long you need your roof to last.
We'll work with just about any roofing material you need. Some of the most popular materials used to construct flat roofing systems include:
PVC
EPDM
BUR (Built-up roofing)
Modified bitumen
Liquid-applied systems
For Wisconsin buildings, we recommend TPO roofing, which happens to be our most popular and cost-effective roofing material option. TPO roofing is made of a single-ply membrane that is flexible and durable enough to last through many harsh Wisconsin winters. Heat-welded seams make TPO membranes 4 times stronger than your average rubber roofing seam, providing an incredible resistance to leaks.
TPO roofing helps business owners manage maintenance and repair costs because it's flexible, impact-resistant nature that makes it harder to puncture or tear. Overall, TPO roofing is a great commercial roofing option, but U.S. Roofing will repair or install any kind of roofing material you may need.
Warrantied commercial roofing systems in Edgerton & throughout Dane County
At U.S. Roofing Inc. we're commercial roofing specialists. For our full-time roofing contractors, it's not some "summer job" like it is for many of the hires at other roofing companies. We've been in the business over 40 years and we take pride in our work. Whether it's a restaurant roof repair or a large power plant roof installation, we know your industry codes, and we always stick to manufacturer guidelines. That's why all of our flat roof repair and construction work is backed by our 20-year workmanship warranty.
There's a reason why U.S. Roofing is trusted by leading Wisconsin industrial corporations like Johnsonville, Pepsi, Ace Hardware, and Kreilkamp Trucking. There's a reason most of our work is made up of repeat business and referrals: Our clients never have a reason to look anywhere else for the highest-quality roofing services in Wisconsin.
Contact us today for a free quote
U.S. Roofing provides commercial and industrial roofing services in Edgerton and the neighboring communities of Cooksville, Fulton, Indianford, Newville, Charlie Bluff, Albion, Dunkirk, Koshkonong, Vinnie Ha Ha, Blackhawk Island, Lake Koshkonong, Carcajou, Glenn Oaks Beach, Busseyville, Hillside, and many others.
Contact U.S. Roofing for a free estimate on commercial roofing services in and around Edgerton.