Commercial & Industrial Roof Construction in Wisconsin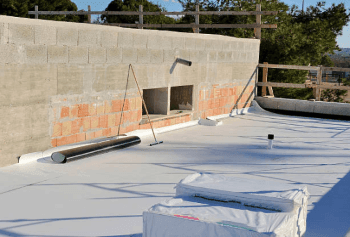 We install the highest quality flat roof systems on commercial & industrial buildings in Wisconsin. Call U.S. Roofing at 920-261-7023 to get a free estimate today.
Get a Free Quote
Since 1979, U.S. Roofing has specialized only in the installation of flat roofs for industrial and commercial buildings. Most other roofing contractors spend the majority of their summers selling and installing asphalt shingle roofs for residential homes. When the residential wells of money dry up, their sales people turn to businesses and overcharge for flat roof systems installed with minimal craftsmanship.
99% of U.S. Roofing's installations are TPO membrane roofing systems, although we do also install EPDM rubber roofing, modified bitumen roofing and built-up roof (BURs).
TPO membranes are what we recommend because they're great for keeping water out of your building. The heat-welded seams are airtight and the composition of TPO makes it impervious to the elements for decades.
Cost-Effective Flat Roof Construction
We offer the best value in flat roof construction with our:
Because we have lower overhead than some of Wisconsin's larger commercial roofers, we're able to offer price points they can't touch. On average our new flat roofing systems cost 10% to 30% less.
Why U.S. Roofing has the best flat roof installers in Wisconsin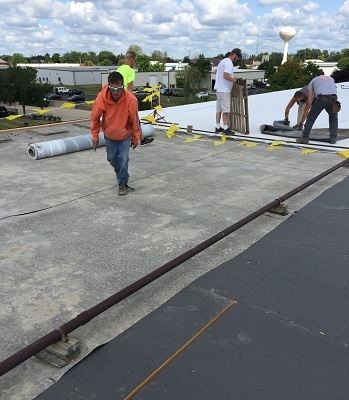 U.S. Roofing installers at work replacing a worn-out roofing system with TPO membrane.
Our flat roof installers are 100% English speaking U.S. citizens. U.S. Roofing performs background checks and drug testing on all potential employees, and we know clear communication is an absolute must for safety and efficiency when working on a roof.
We are absolutely committed to safety and efficiency when working on your building. Most of our roofing crew has been with us for 5+ years. U.S. Roofing has the most dependable crew in the Wisconsin commercial and industrial roofing industry.
We don't consider your business a stage to show off. Unlike many of our higher-priced, lower-quality competitors, we get in and get out, quietly and efficiently. You will be surprised by just how fast and unobtrusive our Wisconsin commercial roofing installers can be.
Our experienced roofing installers have built all types of industrial and commercial flat roofs all over Wisconsin. U.S. Roofing knows Wisconsin's state and local building codes for YOUR industry and will make sure your roofing system meets or exceeds them.
High quality products, low prices and better service than all the giant commercial and industrial roofing contractors in Southeastern Wisconsin is what makes U.S. Roofing hands-down the best roofing company for flat roof installations. So what are you waiting for?

Did you know it's possible to get a new commercial roofing system installed in the winter?
It's important to understand that flat roofing systems installed using adhesives aren't an option in the winter months. Only TPO and PVC roofing membranes can be installed in winter.
TPO and PVC single ply roofing systems are installed using hot air-welded seams (not adhesives) and are mechanically attached to the roof deck before seams are sealed. The hot air welding machines used to seal the seams operate at such high temperatures that the seam welds won't be compromised by the cold outdoor temps.
Installing commercial roofing in the winter definitely isn't ideal, but if absolutely necessary it can be accomplished successfully by experienced roofers. Proper technique is crucial, so if you must replace your commercial roof in winter you're better off going with a local company that's seen plenty of Wisconsin winters.
We also offer roof repairs in winter to help your building get by till springtime.
Installation of any flat roofing materials
We love TPO roofing membrane for Wisconsin commercial buildings, and we're happy to work with any commercial roofing materials you specify.
Contact us for a money-saving quote on:
Built-up roofing installation
Metal flat roof installation
EPDM (rubber) roofing installation
Modified bitumen roof installation
PVC roofing installation
Spray Foam Roof installation
We also install flat roofing insulation for commercial buildings.
Industrial flat roof installation service area
We install flat roofs anywhere in our home base of Watertown and many regional cities. Contact the commercial roofing contractors trusted from Milwaukee to Madison and all points in between.
Send us a message or call U.S. Roofing today at 920-261-7023 to get the best price on the best commercial or industrial flat roof system for your business.