West Bend Commercial Roofing Contractors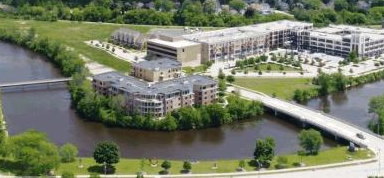 Industrial and commercial flat roof services in West Bend, Wisconsin.
Call U.S. Roofing at 920-261-7032 for a free estimate.
Get a Free Quote
U.S. Roofing is West Bend's best choice for commercial roof repair, replacement and preventative maintenance. Our full-time roofers exclusively work on commercial and industrial flat roofing systems, and we've been doing it since 1979.
Lower prices
As a nimble, focused commercial roofing company we're able to offer lower price points than many of our larger competitors. We keep up with the latest innovations in roofing technology and materials and keep our overhead low. Typically our roofing systems cost 10% to 30% less – call us for a free quote and compare.
Higher standards
When it comes to repairing or replacing flat roofs on industrial buildings, we know the local and state building codes for every industry, including the food processing industry which tends to have the strictest standards. When we're on the job, your roofing system will meet or exceed all requirements.
Our roofing work is backed by a 20-year workmanship warranty and we stand by it. After decades specializing in commercial roofing, the majority of our business comes from repeat customers because they never have a reason to look for another roofer.
Industrial roofing contractors serving West Bend
U.S. roofing specializes in non-penetrating deck roof systems for industrial buildings. Whether you need industrial roof waterproofing, leak repairs or full flat roof replacement, we've got it covered. We install durable, energy-efficient flat roof systems, giving industrial buildings decades of protection.
Commercial Flat Roof Services in West Bend
We've successfully installed, repaired and maintained flat roofs for commercial buildings. We repair leaking and torn roofs and replace aged, rusted-through roofs. We also install new flat roofing systems for warehouses, new construction buildings, offices, malls, grocery stores, department stores and more.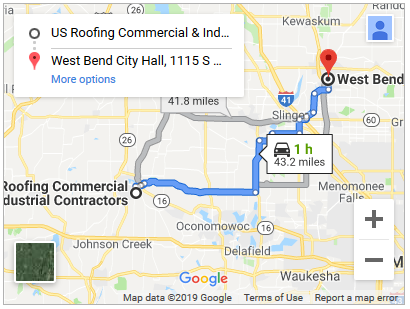 From our Watertown headquarters to West Bend City Hall:
West Bend City Hall
1115 S. Main St.
West Bend
, WI USA
53095
...according to Google it takes about an hour. All of West Bend, its neighboring cities, and all of Washington County are within our service area for any of our commercial flat roof services:
Free commercial flat roof cost estimates in West Bend, WI
U.S. Roofing builds the best industrial and commercial roofing systems in West Bend. Need to get more lifespan out of your existing flat roof? We'll give you our honest recommendation on your most cost-effective options for repair or replacement.
West Bend is the county seat of Washington County, WI and home to multiple museums, an Army National Guard armory, several river walks and hiking trails (Including the National Ice Age Trail), and hundreds of geocaches. Manufacturing and financial services play an important role in the economy of West Bend. Notably, The Gehl Company argricultural manufacturing is headquartered in West Bend. Though less than 40 miles from Milwaukee, West Bend has two radio stations, two city newspapers and a municipal airport. Business and industry in West Bend benefit from competitive tax and utility rates, convenient transportation to Milwaukee and Lake Michigan, and access to a regional workforce. U.S. Roofing is proud to offer the best value in commercial flat roofing services anywhere in West Bend and the surrounding areas.
Kewaskum, WI
Slinger, WI
Cedar Creek, WI
Jackson, WI
Newburg, WI
Richfield, WI
Ackerville, WI
Allenton, WI
Neosho, WI
Woodland, WI
Iron Ridge, WI
Kohlsville, WI
Wayne, WI
Commercial properties in West Bend, WI
South River Road, West Bend, WI
West Bend Industrial Park South, WI
West Bend Industrial Park North, WI
Commerce Street, West Bend, WI
Rail Way, West Bend, WI
Stonebridge Road, West Bend, WI
Metalcraft Road, West Bend, WI
Schoenhaar Drive, West Bend, WI
Trenton Road, West Bend, WI
Downtown West Bend, WI
Hartford budiness improvement district
Downtown Hartford
53090
53095
Highway 33, West Bend, WI
Highway 45, West Bend, WI
Contact U.S. Roofing today for a free West Bend commercial roofing quote or consultation.