Commercial Roofing Contractors in Fort Atkinson, WI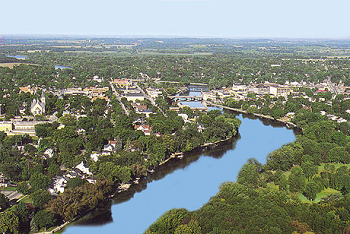 Industrial and commercial flat roof services in Fort Atkinson, Wisconsin.
Call U.S. Roofing at 920-261-7032 for a free estimate.
Get a Free Quote
U.S. Roofing is based in Watertown, WI, about half an hour from Fort Atkinson. Our service area includes all of Fort Atkinson and the nearby cities: Cold Spring, Vinnie Ha Ha, Lake Koshkonong, Blackhawk Island, Carcajou, Busseyville, Koshkonong, Charlie Bluff, Hebron, Helenville, Jefferson, Oakland, Lake Ripley, Newville, Edgerton, Indianford, Milton, Lima Center, Whitewater, Slabtown, Cambridge, Carcajou, and many others.
Why choose U.S. Roofing?
Our experienced roofing crew installs all types of industrial and commercial flat roofing systems in Fort Atkinson. U.S. Roofing knows Wisconsin's state and local building codes for YOUR industry and will make sure your roofing system meets or exceeds them.
Save 10% to 30% on your Fort Atkinson commercial roofing project
We use the newest technology in the industrial roofing industry and maintain low overhead to save YOU money. Our superior flat roofing systems typically cost 10% - 30% less than anywhere else. Call or email us for a free roof repair or replacement quote.
Industrial Roofing Contractors in Fort Atkinson
U.S. Roofing constructs, maintains and fixes non-penetrating deck roof systems for industrial buildings in Fort Atkinson. No other industrial roofing contractor offers a better product, greater expertise or a more competitive price point. We offer a full line of flat roof coatings and we'll work with any flat roof materials you require. If you need help choosing materials we'll gladly take a look and give you our best recommendation for your building and budget.
Commercial Flat Roof Services in Fort Atkinson
U.S. Roofing is a full-service commercial roofing company offering warrantied construction, repair and replacement of TPO roofing systems. We have over 40 years of experience working with a wide range of commercial and industrial buildings in Wisconsin including office buildings, grocery stores, shopping malls, retail stores, restaurants and bars, factories, manufacturing plants, refineries, water treatment facilities and more.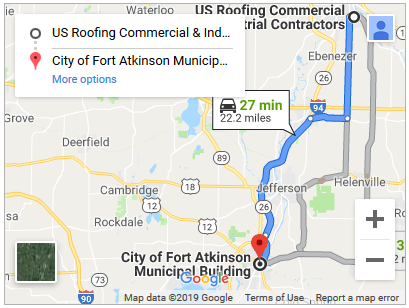 From our Watertown headquarters to Fort Atkinson:
City of Fort Atkinson Municipal Building
101 N. Main St.
Fort Atkinson
, WI USA
53538
...according to Google it takes about half an hour. All of Fort Atkinson, its neighboring communities, and all of Jefferson County are inside our service area for commercial flat roof services:
Not sure if your flat roof system needs repair or replacement? Just send us an email or call, and we'll come take a look.
Free flat roof cost estimates in Fort Atkinson, Wisconsin
U.S. Roofing builds and maintains the best industrial and commercial flat roofs in Fort Atkinson. Looking to get more service life out of your existing flat roof? We'll send a salesman with real roofing experience and to give you an honest recommendation for repair or replacement.
Fort Atkinson is located in central Jefferson County on the Rock River, a few miles northeast of Lake Koshkonong. The city was named after a general in charge of U.S. forces there in the 1800s, when a fort was established at the confluence of the Rock and Bark rivers. Historic districts on Main Street and Merchants Avenue feature buildings from the 19th and 20th centuries. The largest employers in Fort Atkinson are made up of an integrated health and hospital system, with a media group, agriculture, retail and tourism also contributing to local industry. Fort Atkinson is very well connected and has convenient transportation via highways and interstate to Milwaukee, Chicago, Madison and Johnson Creek. Fort Atkinson also has a municipal airport, two radio stations and a daily newspaper. U.S. Roofing is proud to offer the best value in industrial and commercial roofing in Fort Atkinson, including all of 53538.
Contact US Roofing today for a free Fort Atkinson flat roof consultation or estimate.