Commercial roofing contractors in Whitewater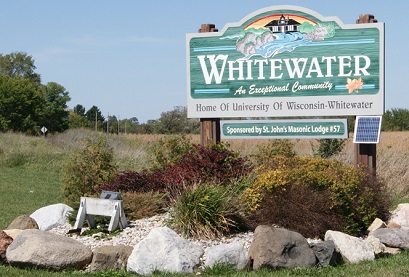 Industrial and commercial flat roof services in Whitewater, Wisconsin.
Call U.S. Roofing at 920-261-7032 for a free estimate.
Get a Free Quote
U.S. Roofing is the commercial roofing company Whitewater business and industry rely on for roof repair and replacement done right the first time.
Our expertise is valued by some of Wisconsin's leading industrial corporations, because we know local and state building codes like the backs of our hands.
We provide a 20-year workmanship warranty and make sure every flat roof we build or repair meets or exceeds the standards required by law.
Only real roofers. Only commercial buildings.
We ONLY do industrial and commercial flat roofs. Our salesmen have real roofing experience and will help you choose the best roofing material for your business, warehouse, or other commercial property in Whitewater.
Some so-called commercial roofers do mainly asphalt shingles on houses and only turn to commercial work when residential jobs dry up. Not us. We specialize in commercial and industrial flat roofing systems, and we've been doing it since 1979. Any materials, any service.
Save 10% to 30% on your Whitewater flat roofing project
We keep overhead low with the latest commercial roofing technology. Our quality flat roofing systems cost 10% - 30% less than anywhere else. We offer free on-site consultations and will help you get the longest possible life out of your flat roof system.
Commercial roof repair in Whitewater
Extreme weather, faulty flashing, membrane punctures from foot traffic or a dropped tool, and years of wear & tear can all cause flat roof leaks. Whatever caused leaking, ponding, poor drainage or other issue with your commercial roof, U.S. Roofing is your best resource for warrantied repairs and restoration.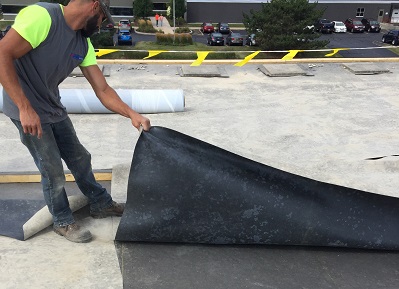 We repair & replace commercial flat roofs in Whitewater.
Our full-time roofing contractors work with all roof coatings and sealants, on any type of roofing material. We do preventative and seasonal maintenance, snow removal and winter roof repairs, and retrofit roofing systems. We'll always give you an honest recommendation for the safety and economy of your roof. We build long-term relationships with our customers, which means helping their roofing systems last as long as possible.
Learn more about commercial roof repair:
For quality industrial or commercial low slope roof repair, choose the local roofing contractors who've been part of the community for decades. Don't trust the storm chasers or "all purpose" roofers who actually mostly work on houses. When getting bids on commercial roof repair always ask the contractor about their license (is it up to date?), proof of insurance (are the property and workers covered?) and referrals from Wisconsin clients (we have lots).
Industrial Roofing Contractors Serving Whitewater
U.S. Roofing's flat roof systems for industrial buildings keep power plants, retail buildings, university buildings, warehouses & breweries in compliance with safety codes. Whether you're looking for a quick repair or a full TPO roof replacement in Whitewater, we're your best option. We'll use any commercial roofing materials you specify, and we've got a full line of flat roof coatings as well. If you need a recommendation we'll use our experience to help you choose the best material for your building and budget.
Our 20-year workmanship warranty means your commercial flat roof is covered for the long haul. Our flat roofing systems can be installed for offices, grocery stores, cold storage warehouses, hospitals, manufacturing plants and more.
Whitewater Commercial Flat Roof Services
We repair, installed & maintain quality commercial flat roofs on buildings in Whitewater and throughout southeast Wisconsin - any commercial building within about a two hour drive is in our service area.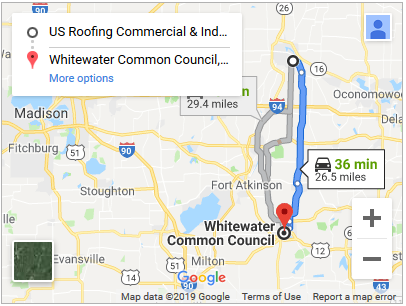 From our Watertown headquarters to Whitewater Common Council:
Whitewater Common Council
312 W. Whitewater St.
Whitewater
, WI USA
53190
...according to Google it takes about 35 minutes. Call us for a free estimate today, or send us a message online. We'll do everything we can to help you out.
Supporting Whitewater's growing business community with the best value in commercial roofing
Whitewater is located in both Walworth County and Jefferson County in Wisconsin, near the southern part of Kettle Moraine State Forest. Whitewater is home to the University of Wisconsin-Whitewater campus, and the Young Auditorium hosts various forms of entertainment between April and September. There are also five schools in Whitewater, all part of the Whitewater Unified School District.
Whitewater Business Park was established in 1986 and is now one of the biggest industrial developments in Wisconsin. Currently over 20 businesses are in the business park, as it continues to grow. For more information about the amenities and opportunities for commercial and industrial growth in Whitewater, please visit the City of Whitewater page. For the best commercial and industrial roofing contractors in Whitewater, call U.S. Roofing today or send us a message online. We're proud to provide the best value in Whitewater and the neighboring areas.
Cold Spring, WI
Lima Center, WI
La Grange, WI
Palmyra, WI
Hebron, WI
Little Prairie, WI
Richmond, WI
Johnstown, WI
Milton, WI
Koshkonong, WI
Oak Hill
Slabtown, WI
Fort Atkinson, WI
Industrial Drive, Whitewater, WI
Willis Ray Rd, Whitewater, WI
Commercial Avenue, Whitewater, WI
Whitewater, WI business park
Universal Blvd, Whitewater, WI
Executive Drive, Whitewater, WI
Cty Hwy U, Whitewater, WI
Milwaukee Street, Whitewater, WI
Main Street, Whitewater, WI