Beaver Dam WI Commercial Roofing Contractors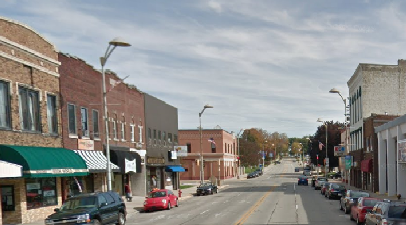 Industrial and commercial flat roof services in Beaver Dam, Wisconsin.
Call U.S. Roofing at 920-261-7032 for a free estimate.
Get a Free Quote
U.S. Roofing is the only Beaver Dam commercial roofing contractor working exclusively on commercial and industrial flat roofs since 1979.
We build long-lasting, watertight TPO roofing systems because we believe TPO membrane offers the best value and performance for Wisconsin buildings. That said, we'll use any roofing materials you specify for your repair or replacement.
Warrantied flat roof repair & replacement in Beaver Dam
Our experienced roofing crew installs & fixes all types of industrial and commercial roofs all over Beaver Dam. Our highly experienced contractors know Wisconsin's state and local building codes for YOUR industry and will make sure your roofing system meets or exceeds them.
All our flat roof repair and construction work is backed by our 20-year workmanship warranty. We've been in this business for decades and we stand behind our work.
Higher expectations. Lower prices.
We use the latest technology in the commercial roofing industry and keep overhead low. Our superior flat roofing systems cost 10% - 30% less than anywhere else. Whether we're your first or final quote, we'll show you the savings.
Commercial roof repair in Beaver Dam
Harsh weather, poor drainage, membrane puncture from a boot or tool, and good old wear & tear can all lead to flat roof leaks. No matter what caused the leak or other commercial flat roof problem, U.S. Roofing is your best bet for economical and lasting repairs and restoration.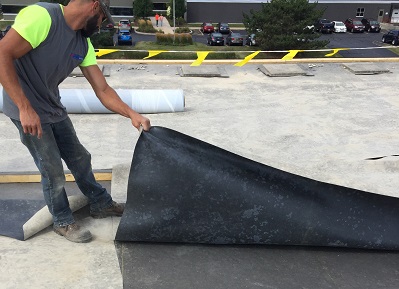 We repair & replace commercial flat roofs in Beaver Dam.
We offer commercial roof coatings and sealants, preventative maintenance, snow removal, and expert inspections. We make honest recommendations to improve the safety and longevity of your roof. We're interested in long-term relationships with our clients, not selling replacement roofs prematurely.
Learn more about your commercial roof repair options in Beaver Dam:
When you need industrial low slope roof repair, choose the local roofing contractors who ONLY work on commercial roofing systems. Steer clear of storm chasers or roofers who mostly do houses houses and only take commercial jobs when the residential roofing work dries up. Always ask a commercial roofer bidding on your project about their licensing, proof of insurance and referrals from repeat clients (we have tons).
Industrial Roofing Contractors in Beaver Dam
U.S. roofing specializes in non-penetrating deck roof systems for industrial buildings. Whether you need a full flat roof replacement or repairs, we've got it covered. We offer a full line of flat roof coatings and we can work with any commercial roofing materials you specify for your building. No other industrial roofer matches our experience, results, or pricing. This is why the majority of our clients are return customers, because they never have a reason to look for another industrial roofing company.
Learn more about the types of building roofs we work on, or see photos and videos of our crew at work in our project gallery.
Commercial Flat Roof Services in Beaver Dam
We've successfully installed, repaired and maintained flat roofs for commercial buildings in Beaver Dam and other Wisconsin cities for more than 40 years. We repair leaking and torn roofs and replace aged, rusted-through roofs. We also install new flat roofing systems for new buildings, including offices, malls, grocery stores, department stores and more.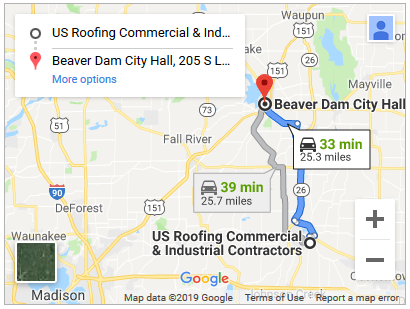 From our Watertown headquarters to Beaver Dam City Hall:
Beaver Dam City Hall
205 S. Lincoln Ave
Beaver Dam
, WI USA
53916

...according to Google it takes about half an hour. All of Beaver Dam and its neighboring communities are in our service area for commercial flat roof services:
Not sure if your building's roof requires repair or replacement? Just get in touch with U.S. Roofing and we'll come take a look. All our salesmen have real roofing experience, and we'll always help you get the longest possible service life out of your commercial roofing system.
Free flat roof cost estimates in Beaver Dam, Wisconsin
U.S. Roofing builds the best industrial and commercial flat roofing systems in Beaver Dam. All our work is backed by a 20-year workmanship warranty. Looking to get more use out of your existing flat roof? We'll take a look and give you an honest evaluation of your most cost-effective options for repair or replacement.
Beaver Dam is the second largest city in Dodge County after Watertown. There's also a Town of Beaver Dam nearby, and both are located in the Beaver Dam Micropolitan Statistical area. Beaver Dam really was named for a beaver dam in a stream feeding the Beaver Dam river. In addition to public schools, Beaver Dam has a private school and a Morain Park Techical College campus. The City of Beaver Dam website offers resources for business and industry interested in moving to or expanding in Beaver Dam. The City of Beaver Dam has created an Energy Independence Plan, among its goals are generating 25% of electric power and fuel for vehicles from renewable resources by the year 2025. U.S. Roofing is proud to offer the best value in commercial roofing services in Beaver Dam, including 53916 and the surrounding communities.
Rolling Prairie, WI
Leipsig, WI
Juneau, WI
Oak Grove, WI
South Beaver Dam, WI
Minnesota Junction, WI
Burnett, WI
Lowell, WI
Reeseville, WI
Astico, WI
Columbus, WI
Fall River, WI
Clyman, WI
Beaver Dam Commerce Park
Beaver Dam industrial park
Downtown Beaver Dam
Beaver Dam commercial district
Beaver Dam commercial development sites
Industrial Drive, Beaver Dam, WI
Corporate Drive, Beaver Dam, WI
Commercial property in Beaver Dam, WI
Beaver Dam 151 Business Park
Contact US Roofing today for a free Beaver Dam WI flat roof consultation or estimate.