Industrial roofers meeting ALL building & safety codes for any industry
Make sure your new or replacement flat roof is up to code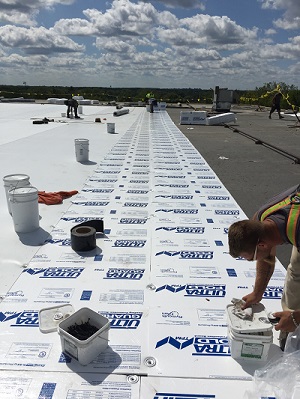 Wondering how Wisconsin commercial building code applies to your flat roof? We're all over it.
U.S. Roofing has been building and fixing flat roofs in Wisconsin since 1979. We have a thorough understanding of all state and local building codes for many different industries.
We always meet or exceed the building code standards specific to your industry, including the food processing industry which has notoriously stringent requirements.
Don't risk your money or the integrity of your building. Choose the Wisconsin commercial roofers with the experience, expertise and reputation for installing and maintaining high-performing flat roofs up to code and built to last.
Roofing Codes for Older Commercial Buildings
When working on older buildings it's important to know which building code was in use at the time of construction.
In some cases, local building codes require an older building's roof to be evaluated against the current building code if reroofing or remodeling reaches a certain threshold.
Whether you need a brand new flat roof system or a replacement roof for an older building, U.S. Roofing is your best bet. No other roofer can match our low overhead and industry expertise.
How Wisconsin Commercial Building Code Works
Building codes define strict performance requirements that include roofing systems.
State and local government agencies establish and enforce building codes to protect the public safety, as well as the health and well-being of people using commercial and industrial buildings.
Nationwide, most jurisdictions adopt codes created and maintained by international model code groups including the ICC (International Code Council), IBC (International Building Code), IECC (International Energy Conservation Code) and others.
The current Wisconsin commercial building code is based on the IBC.
Contact us for a free consultation and cost estimate for your commercial or industrial building.
Types of Wisconsin Industrial Building Codes We Meet & Exceed
If your commercial building has a flat roof, we'll make sure it meets all required building codes for your industry.
Refrigeration/Cold storage buildings
Heavy industrial buildings (manufacturing)
Light manufacturing buildings
Telecom centers & web hosting facilities
Research & development buildings
Retail & showroom buildings
Agricultural buildings
Machine shops
Healthcare facilities
Power plants
Refineries
Food processing or packaging plants
Flex space/office buildings
Call or send us an email to request a free roof inspection before reroofing your industrial building. We'll determine what needs to be done to get it handled correctly, the first time.
Wisconsin service area for our industrial roofing contractors
U.S. Roofing is located in Watertown. We primarily work in:
Jefferson County
Dodge County
Dane County
Walworth County
Waukesha County
Washington County
Milwaukee County
Ozaukee County
Wisconsin weather is already tough on your roof and building exterior. Make things easier by calling U.S. Roofing for all your installation, repair & reroofing projects.
Useful Resources
Wisconsin SPS Chapter 362 covers information about code requirements for commercial buildings and structures.
View on Wisconsin state legislature site
National Roofing Contractors Association (NRCA) building codes and standards page has up-to-date information about building codes and their effect on roofing.
NRCA archives include a technical one-page summary of how the IBC applies to roofing projects.
We'll Take Care of Your Roofing Building Codes
Navigating Wisconsin state, county or city building code standards can be a frustrating task for property owners, business owners and facility managers.
U.S. Roofing has decades of expertise building and repairing industrial flat roofs in Wisconsin. Contact us for a free roofing consultation to find out whether your existing or planned roofing system is up to code.
P.S. Our superior flat roofing systems cost 10%-30% less than anywhere else.