Commercial Roofing Contractors for Milwaukee County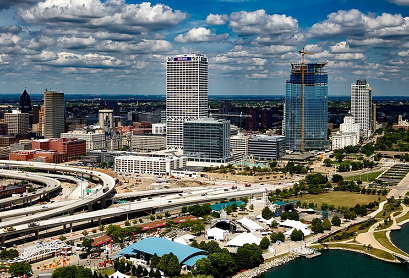 Industrial and commercial flat roof services in Milwaukee, Wisconsin.
Call U.S. Roofing at 920-261-7032 for a free estimate.
Get a Free Quote
U.S. Roofing is based in Watertown, WI, about an hour's drive from Milwaukee. Our service area includes all of Milwaukee County and the greater Milwaukee metro area, including: South Milwaukee, Oak Creek, West Allis, West Milwaukee, Greenfield, Franklin, Brown Deer, Glendale, Whitefish Bay, Shorewood, Wauwatosa, Greendale, Hales Corners, Cudahy, St. Francis, Granville, Bayside, Fox Point, River Hills, and the surrounding communities.
Why choose U.S. Roofing?
Our experienced roofing crew installs all types of industrial and commercial roofs all over Milwaukee. U.S. Roofing knows Wisconsin state and local building codes for YOUR industry and will make sure your roofing system meets or exceeds them.
Save 10% to 30% on your flat roof project in Milwaukee
We use the latest technology in the commercial roofing industry and keep overhead low. Our superior flat roofing systems cost 10% - 30% less than anywhere else. Call or email us for a free estimate!
Commercial roof repair in Milwaukee
Commercial roof leaks can be caused by severe weather, poor drainage, membrane puncture, damaged flashing and aging/wear and tear. No matter the cause, when your commercial flat roof is leaking, pooling or needs restoration, call U.S. Roofing for commercial roof leak repair with warrantied workmanship.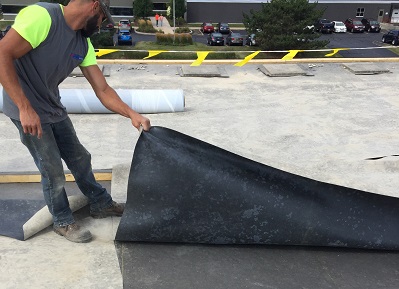 We repair & replace all types of commercial flat roofing in Milwaukee.
We carry a full line of roof coatings and offer preventative commercial roof maintenance services to help stop your next roof leak before it starts.
Learn more about your commercial roof repair options in Milwaukee:
When you need commercial flat and low slope roof repair, choose the roofers who exclusively build and fix commercial roofing systems. Avoid storm chasers or roofers who earn their bread and butter on houses and only take commercial jobs when the residential roofing jobs dry up. Before deciding on a contractor for commercial roof repair, always ask about licensing, proof of insurance and referrals from past commercial roof repair jobs.
Commercial Flat Roof Services in Milwaukee
We've successfully installed, repaired and maintained flat roofs for commercial buildings. We repair leaking and torn roofs and replace aged, rusted-through roofs. We also install new flat roofing systems for new buildings, including offices, malls, grocery stores, warehouses, department stores and more.
Industrial Roofing Contractors serving Milwaukee
U.S. roofing specializes in non-penetrating deck roof systems for industrial buildings. Whether you need a full flat roof replacement or repairs, we've got it covered. We work with all types of commercial flat roofing materials and offer a full line of flat roof coatings. Not sure which type of roofing system would work best for your building? We're happy to come over for a consultation and explain your options taking your budget into consideration.
Milwaukee commercial flat roof contractors
We've been building, repairing, and maintaining commercial flat roof systems in Milwaukee County for more than 40 years. If your commercial or industrial building is located in Milwaukee County, get a free quote from U.S. Roofing to see how much we can save you.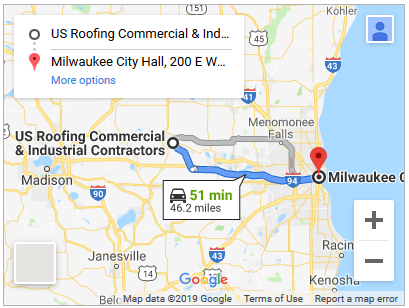 From our Watertown headquarters to downtown Milwaukee:
Milwaukee City Hall
200 E. Wells St.
Milwaukee
, WI USA
53202
...according to Google it takes about an hour. The entire city of Milwaukee, greater Milwaukee metro region and Milwaukee County are in our service area.
Free flat roof cost estimates in Milwaukee County
U.S. Roofing builds the best industrial and commercial flat roofs of Milwaukee County. Need to get more mileage out of your existing flat roof? We offer free inspections and will give you our honest opinion on your most cost-effective options.
Milwaukee County has the largest population of any Wisconsin County, hardly surprising when it includes the state's largest city and eighteen others. Milwaukee County is also a popular destination with the Brewers and the Bucks, Summerfest, State Fair, a beautiful lakeshore and many other attractions. We're proud to offer the best value in commercial flat roofing everywhere in Milwaukee County including 53293 53290 53274 53268 53267 53259 53237 53278 53288 53234 53263 53295 53233 53228 53203 53224 53205 53216 53222 53210 53227 53218 53213 53223 53215 53211 53204 53207 53208 53226 53220 53221 53219 53212 53209 53214 53202 53206 53201.