Commercial roofing contractors in Stoughton, WI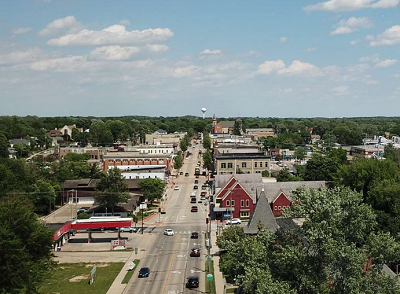 Industrial and commercial roofing services in Stoughton, Wisconsin.
Call U.S. Roofing at 920-261-7032 for a free estimate.
Get a Free Quote
U.S. Roofing is headquartered in Watertown, less than an hour's drive from Stoughton. Our local, full-time roofing contractors provide complete commercial roofing services (flat roofs only) for buildings in Stoughton and the surrounding communities.
Contact us for a free quote on:
We also offer spray foam insulation for commercial and industrial buildings.
Typically, our prices come in 10% - 30% cheaper than larger area competitors, because we keep our overhead low and work efficiently. See for yourself - get in touch for a price quote today.
Choose local roofers to protect your business
U.S. Roofing has been building, fixing and replacing commercial and industrial roofing systems in Wisconsin for over 40 years. It's all we do, and we offer a level of expertise unmatched by roofers who do mostly residential work with commercial jobs on the side.
All our work is covered by a 20-year workmanship warranty, and we carry full liability and workman's compensation insurance to protect ourselves, our employees, and our clients.
When it comes to recommending the best roofing materials we believe TPO roofing offers the greatest value to Wisconsin businesses because it's so durable and remains watertight while withstanding harsh weather and temperature swings.
Get a free quote and advice from a real roofer
Naturally the chief concern when someone contacts us about roofing is the cost. We're happy to provide a free cost estimate for repairs, replacement or a new roof, but we can't do it without assessing the situation.
If you can get more good service life out of your existing roof, we'll tell you so. When replacement can no longer be avoided, we'll help you find the best value for your building and budget.
Call or contact us online and we'll send someone with actual commercial roofing experience to check out your roof (not some salesman who was hawking computer software six months ago).
We serve business and industry in Stoughton and its neighboring communities including Kegonsa, Dunkirk, Cooksville, Union, Brooklyn, Stone, Rutland, Oregon, McFarland, Door Creek, Utica, Albion, Edgerton and everywhere in between.
Contact U.S. Roofing today for a free quote on commercial roofing services in Stoughton.