Industrial Roof Waterproofing
Benefits of Waterproofing an Industrial Roof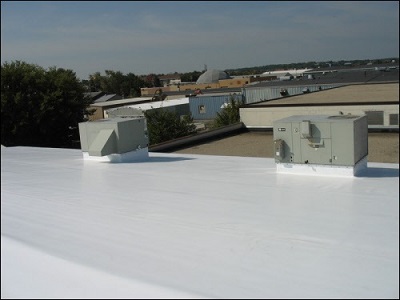 Heat-welded seams create a watertight seal that lasts.
Waterproofing an industrial building's roofing system can do wonders for its longevity, as well as protecting the equipment, products and employees inside. The industrial roofing professionals at U.S. Roofing are dedicated to protecting buildings for the long haul. In addition to many flat-roofing options, we also offer a variety of coatings to enhance an industrial roof's ability to resist water intrusion.
In business since 1979, U.S. Roofing is the choice of many leading Wisconsin businesses. We use only top-quality materials, back every job with a 20-year warranty, and still manage to price our work 10% to 30% less than the competition.
Industrial Flat Roof Waterproofing Methods
U.S. Roofing specializes in flat roofs for industrial and commercial buildings. Roof coatings are used to protect them from rain, sleet and snow, as well as heat and UV rays. In addition to applying whole roof coatings, we also patch leaky areas and perform any needed roof repairs.
U.S. Roofing has protective coatings formulated for flat asphalt, metal and rubber roofs, including:
Silicone Elastomers
Acrylic Elastomers
Spray Polyurethane Foam (SPF)
Butyl Elastomeric Polymers
Polyurea Elastomer
Asphalt Emulsions
If you're not sure which waterproof industrial roofing system would be best for your property, call U.S. Roofing to request a free consultation.
Waterproof Industrial Roof Installation
We're southeast Wisconsin's best TPO roofing contractors. TPO membrane roofing systems are not only our recommendation for a long-lasting waterproof industrial roof, it's 99% of what we install. That said, we also have expertise in other industrial roofing systems that will keep your building watertight, including:
EPDM/Rubber Roofs
PVC Roofs
Built-Up Roofs (Asphalt)
Modified Bitumen Roofs
Spray Polyurethane Foam (SPF) Roofs
Gravel Roofs
Acrylic Roofs
Green Roofs
Based in Watertown WI, we've installed thousands of durable, waterproof flat roofs in Milwaukee, Waukesha, Madison, Janesville, West Bend, Beaver Dam and throughout Southeast Wisconsin.
If you're not sure which type of waterproof coating or roofing system would be best for your building, contact U.S. Roofing to request a free consultation.