Industrial Flat Roofing Contractors in Rock County, WI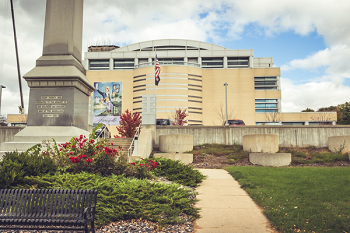 Industrial and commercial flat roof services in Rock County, Wisconsin.
Call U.S. Roofing at 920-261-7032 for a free estimate.
Get a Free Quote
U.S. Roofing is headquartered in Watertown, WI. Our service area for commercial roofing work covers all of Rock County.
Why choose U.S. Roofing?
We ONLY work on industrial and commercial flat roofs, our specialty. Our salesmen have professional roofing experience and will help you find the best roofing material for your business, warehouse, or other commercial property in Rock County.
We keep overhead cost low by using the latest and greatest commercial roofing technology available. Save 10% to 30% more than anywhere else with our exceptional quality roofing systems. We offer free roof inspections and consultations to help you get the best value and lifespan out of your commercial flat roof system.
Commercial Roofing Contractors Serving Rock County
U.S. Roofing's flat roof systems for commercial buildings keep power plants, warehouses & breweries in compliance with safety codes. Whether you're looking for a quick repair or a full TPO roof replacement, U.S. Roofing is the the #1 option in Rock County.
Our 20-year workmanship roof warranty means your industrial flat roofing system is covered long term. Our flat roofing systems can be installed for offices, grocery stores, cold storage warehouses, hospitals, universities and more industrial and commercial buildings.
Industrial Roofing Services in Rock County
Save 10% to 30% on Your Flat Commercial Roofing Project with U.S. Roofing: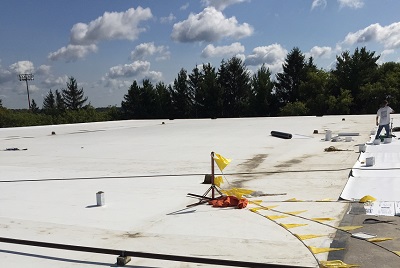 We fix & install durable, weathertight flat roof systems in any material, anywhere in Rock County.
We do repair, installation & maintenance of flat roofs on commercial and industrial buildings in Rock County & throughout Wisconsin. U.S. Roofing will repair and maintain your current flat roof at the best value, even if we didn't originally build it.
Rock County was created in 1836 as a territorial county on December 7, 1836 from Milwaukee County and was then fully organized February 19, 1839. The county is named for the Rock River, which divides the county from north to south. Rock County has a total area of 726 square miles, of which 718 square miles is land and 8.0 square miles (1.1%) is water.
We're proud to offer Wisconsin's best flat roofing services to all of Rock County including: Union, Cooksville, Edgerton, Newville, Charlie Bluff, Koshkonong, Evansville, Fulton, Indianford, Milton, Lima Center, Leyden, Anderson, Johnstown, Magnolia, Cainville, Janesville, Emerald Grove, Fairfield, Avalon, Footville, Brodhead, Orfordville, Afton, Shopiere, Clinton, Allen's Grove, Avon, Newark, Belcrest, Crestview, Porters, Foxhollow, Beloit, South Beloit, Bradford, Center, Harmony, La Prairie, Lima, Plymouth, Rock, Spring Valley, Turtle, Hanover, Bergen, Coopers Shores, Johnstown Center, Maple Beach, Stebbinsville, Tiffany and the surrounding communities. U.S. Roofing is the best value in commercial roofing services anywhere in Rock County including 53501, 53505, 53511, 53512, 53525, 53534, 53536, 53537, 53542, 53545, 53546, 53547, 53548, 53563, 53576.