Restoration, leak repair & re-roofing for commercial & industrial buildings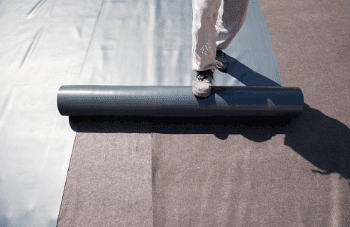 Industrial & commercial flat roof repair in Wisconsin. Call U.S. Roofing at 920-261-7032 to get a free estimate today.
Free Repair Quote
Your business can't afford to take the cheap route when you need commercial roofing repair for flat roof leaking, ponding, pooling or puddles. A quick Google search for "fix flat roof leaks" will give you results littered with DIY flat roof repair options sure to fail you shortly after dropping hundreds of dollars on second-rate sealants and so-called "leak stoppers".
At the first sign of flat roof leaks or pooling, call U.S. Roofing Inc. We're in Watertown and work on industrial and commercial buildings in Milwaukee, Madison and everywhere in between. We ensure your roofing system repairs exceed the highest industry standards.
Explore this page:
Saving on Flat Roof Replacement & Repair Costs in Wisconsin
U.S. Roofing consistently passes along the best flat roof repair and replacement prices in Wisconsin. We have lower overhead than many of our larger competitors and are able to offer price points they can't match.
Learn more about our cost-effective commercial roofing services or contact us today to see how you can save 10% - 30% on your upcoming flat roof project.
Should I repair or replace my current flat roof system?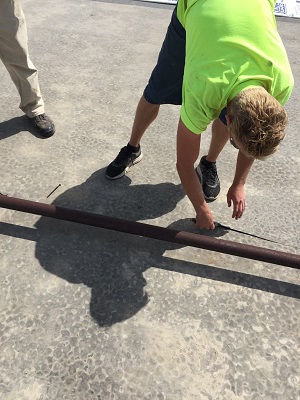 Peeling back old roofing material in preparation for a full replacement.
It's the question we hear the most. The best piece of advice we can give is to hire a flat roofing expert (like us!) to assess your roof's current condition. Be wary of hiring run-of-the-mill general contractors or asphalt shingle roofers. Often they don't understand the complexities of flat roofing systems and could give you advice that will drain your bank account.
How we determine if your flat roof needs repairs or replacement
An experienced flat roof contractor will thoroughly inspect all aspects of your roofing system, including the material, seams, flashing and attachment points. Then we'll give you our honest opinion on whether or not the roof should be replaced or repaired.
Flat roof materials: Test cut checks material health underneath the top layer.
Flat roof seams: Check for seam strength and evaluate whether moisture is entering.
Flat roof flashings: Check to ensure flashings are still adequately connected to the membrane. (Most roof leaks are due to faulty installation or old flashings.)
Flat roof attachment points: Check to ensure the roof is still attached where it supposed to be.
Our goal is to educate you and help you make the best decision for your roof and budget, not just give you a sales pitch. Call us for a free estimate and roof inspection to get started.
Commercial/Industrial roof repair
We repair and restore all types of commercial flat roofs whether we installed them or not. Your commercial flat roof repair options depend on the type of damage, roofing materials, and overall condition of your roofing system.
The most common commercial flat roof repair options include:
Leak repair
Commercial roof drain repair
Membrane penetration repair
Seam sealing
Roof coating system (roof restoration)
Contact us for a free repair estimate and we'll send a salesperson with real roofing experience to come take a look. Whether you need a patch, sealant, flashing repair or restoration, we'll help you maximize the lifespan of your flat roof.
Types of commercial flat roofing we repair
US Roofing can restore all common types of commercial flat roof materials and industrial flat roofing systems, including:
Built-up roof repair: Built up roofing (BUR for short) is more commonly known as "tar and gravel" roofs or "gravel roof systems"). They're made of alternating layers of asphalt or tar and reinforcing fabric (roofing felts reinforced with glass-fiber mats or organic mats) with a layer of gravel on top. These roofs can be coated with a variety of protective coatings.
Metal flat roof repair: Metal roofing on commercial buildings is typically sheets of ridged metal joined together with screws. The most cost-effective restoration process is to apply a protective coating, although we can also attach sub-purloins to the existing roof and attach new metal panels to them.
EPDM flat roof repair: EPDM (ethylene propylene diene terpolymer) is a single-ply rubber roofing membrane widely used on flat and low-slope roofs. Because EPDM retains its integrity and flexibility over time, it's a good candidate for restoration with a protective coating—provided the roof is not mechanically fastened and the insulation board underneath isn't wet or damaged.
TPO flat roof repair: TPO (thermoplastic polyolefin) is a co-polymerized rubber that retains its flexibility in cold climates. As these roofs age, the seams and penetration flashings will fail, resulting in leaks when it rains or snow melts. TPO roofs can be easily restored with a variety of coatings.
Modified bitumen flat roof repair: These are hybrid BUR roofs which use rolls of reinforcing sheets that are hot-mopped with heated asphalt or a torch to make it adhere to the subsurface. These roofs are good candidates for several types of coatings.
PVC roof repair: PVC roofing is used for both new installations and reroofing and is capable of being cut and re-welded if new equipment is installed on the roof, or if repairs are required. PVC (polyvinyl chloride) is a thick and flexible single membrane roofing material capable of withstanding ponding water.
Spray foam roofing repair: Spray polyurethane foam (SPF) roofing has an elastomeric coating that will naturally degrade and need replacement over time. Any punctures or cracks can be repaired with caulk and recoating. Even if SPF roofing suffers extensive damage in a storm, it can usually be restored (through scarification) without requiring replacement.
Acrylic roof repair: Acrylic coating for flat roofs can be applied on top of practically any existing roofing system to extend its lifespan, reduce energy costs and protect the substrate from UV rays. In cases where the roof is too old, badly deteriorated, or mechanically unsound, applying acrylic coating as a repair measure will not preclude the need for roof replacement.
With several flat roof coating options available, your best course of action is to schedule a free roof inspection and discuss the different coatings available with an estimator. We work on all types of industrial and commercial building roofs including warehouses, factories, refineries and many others.
Industrial roofing repairs
We've been repairing and replacing industrial roofing systems since 1979 and back all our industrial roof repairs with a 20-year workmanship warranty.
Our industrial roofing contractors expertly handle the most common flat roof issues including:
Industrial roof leak repairs
Ponding water/puddles
Damage from hail and high winds
Damage from foot traffic, tools, etc
Deteriorated membrane (a fluid-applied coating may extend the life & costs less than full replacement
Whether you've identified the exact problem with your industrial roofing system or not, call us for a free inspection. We'll send someone with actual industrial flat roof repair experience to explain your best options.
Commercial roof repair cost
The cost of repairing a commercial flat roof can vary based on the size and age of the roofing system, the extend of the damage and materials used. Commercial roof repair prices can also vary based on the quality and integrity of the roofer you hire.
Replacing a roof can be a significant outlay for the owner or facility manager of a commercial or industrial building, so it's no surprise that calculating the cost of repair or reroofing is typically the chief concern when choosing a contractor.
It's important to consider not only your budget for roof maintenance, repair, or replacement, but also the lifecycle of a commercial roofing system. Recommendations from unscrupulous or simply inexperienced commercial roofers can lead to commercial roofs being replaced long before necessary.
In many cases when a commercial roof needs repair, it can still provide adequate protection to your building provided the repair or restoration is done properly.
We offer free cost estimates and will give you our honest opinion on whether your commercial roof needs repair, restoration, or replacement. Our goal is to help you extend the service life of your current roof for as long as possible and avoid premature roof replacement costs.
Get a free commercial roof repair cost estimate from southeast Wisconsin's trusted commercial roofing company.
Commercial roof leak repair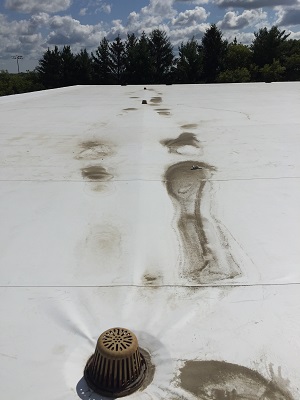 We fix & prevent water pooling on flat roofs.
Correctly identifying the cause of a flat roof leak as early as possible will save you money over the life of your roofing system.
Most common causes of flat roof problems:
Neglecting to keep up with flat roof maintenance
Membrane damage from severe weather including storms, hail and strong winds
Flashing around perimeter failing
Poor drainage caused by improper roof installation (flat roofs need a slight slope to allow water to run off)
Roof has reached the end of its service life (even a perfectly installed flat roof will not last forever)
Bad workmanship by some other roofing company*
*One of our clients came to us after using another commercial roofer who simply sprayed a coating on the roof without preparing the surface. It didn't even last one year before failing.
The most cost-effective way to maintain or replace a commercial roofing system starts with a free consultation from our experienced roofers. Whether we installed the roof or not, we'll take a good look and recommend repair or replacement based on our findings.
Commercial roof repair in winter
The 3 biggest threats to commercial roofing in winter are snow and ice buildup, condensation, and wind damage.
Snow & Ice
Our flat roof maintenance services include snow removal. Not sure how much is too much? Just get in touch and request a free roof inspection to determine if your commercial building's structure is within its maximum weight limit.
Condensation
During cold months, warm air from the heated interior of commercial buildings can escape into the roof area and cause condensation. The excess moisture can lead to mold, mildew and damage to the roof structure or materials. If you're noticing condensation in the roof or attic space of your commercial building, contact us for a free inspection of the roof deck, materials and insulation. Regular maintenance and proper insulation are crucial to protecting your investment.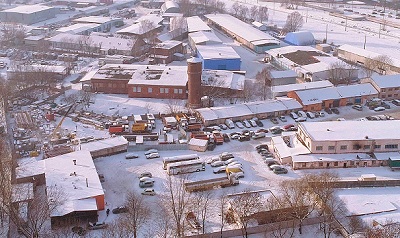 Our roofers help you get the most service life out of your commercial roof in any season.
Wind
High winds (and the freezing rain or snow they carry) can damage commercial roofing systems on their own. Winter winds are also opportunists, taking advantage of imperfect seals, rusted fasteners or flashing or rooftop debris to damage your roofing system.
Commercial roof repair in winter weather can be challenging, which is why our contractors use the latest technology in the commercial roofing industry. We've been repairing commercial roofs in Wisconsin since 1979 and know what to do, and the right way to do it.
We have a full line of roof coatings, including formulations designed to seal and set even in cold, wet conditions.
Winter weather allowing, we can seal stubborn flat roof leaks to keep the problem from getting worse. If repair work must be done on your commercial roof in winter, we recommend following up with an inspection of the repaired areas in springtime.
Emergency commercial roof repair
Even when a flat roof is installed correctly and kept up with preventative maintenance, extreme temperatures and storms can have building owners calling for emergency commercial roof repair.
If your commercial roof has been damaged requiring emergency repair, steer clear of storm chasers and scams. Always ask a commercial roofing contractor for proof of insurance and license status, find out if they have a local headquarters and check their referrals.
U.S. Roofing has provided the highest caliber roof repair and replacement services in Wisconsin since 1979. Our locally-owned roofing company is located in Watertown, serving eight counties in south central and southeast Wisconsin. Satisfied past customers and those they've referred to us make up the majority of our business because we never give them a reason to look for another roofing company.
For emergency commercial roof repair, call U.S. Roofing at 920-261-7023.
Commercial/Industrial roof replacement
If roof replacement is necessary, we're your BEST option.
We believe TPO membrane offers the greatest value to most Wisconsin commercial buildings, and recommend replacing your current roofing system with TPO.


TPO flat roof replacement: single-ply roofing membrane, most popular material for commercial and industrial roofing systems. Benefits include energy cost savings, great durability (especially in cold temperatures) and environmental friendliness (TPO is completely recyclable).
Cost of reroofing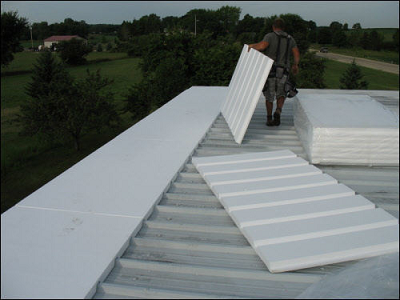 Replacing a metal flat roof with a new TPO system.
Naturally the first thing a building owner, business owner or property manager wants to know is: How much does it cost to replace a commercial roof?
The final cost depends on many factors, but mainly on whether or not we need to tear off your old roof.
Roof removal has a large impact on roof replacement costs and in some cases cannot be avoided.
Wisconsin building code allows no more than two layers of roofing material. If your current roof already has two layers we can't add a third material on top.
A complete tear-off is needed when both layers of existing material are in poor condition, or if the outer layer can't be removed without compromising the layer beneath it.
We'll do a thorough evaluation of your roofing system and help you find the best overall option for your budget. Commercial/Industrial roof restoration such as applying a coating system can extend the life of your roof and keep unnecessary waste out of Wisconsin landfills.
How we keep costs low
We use the latest technology in the commercial roofing industry to make sure we're working as efficiently as possible. As an independently owned local roofing company we're able to keep overhead low, which typically translates to pricing around 10% to 30% less than the competition.
For a free cost estimate for commercial roof replacement (or to find out whether you need it replaced) please contact us online or give us a call.
What you can expect when U.S. Roofing is replacing your commercial roof
We'll give you a quote and a timeline and stick to it.
We have the experience and resources to know what it takes to complete jobs of all sizes. The majority of our business comes from satisfied repeat clients and referrals because we have a reputation for finishing the work on time (with allowances for changing weather conditions) and in budget.
U.S. Roofing is fully licensed and insured to protect our clients and crew.
We've been working exclusively on commercial flat roofs since 1979 and know the business inside and out. We carry workman's compensation insurance as well as general liability coverage. We also adhere to all applicable building codes for your industry and will meet or exceed your industry standards.
Onsite material staging, storage and disposal will be required.
We provide the necessary containers, temporary fencing, cranes, or any other equipment needed to complete the job.
We get in and out safely and efficiently
Unlike many commercial roofing contractors, we don't view your business as a stage for a roofing performance. Though there will be increased noise levels during the project, you'll be amazed how fast and unobtrusive our roofing crew is.
Commercial building roof repair or replacement doesn't need to be an ordeal. Our experienced roofers get the work done efficiently with minimal disruption to your business.
Commercial Roof Restoration
What is roof restoration?
Roof restorations are commonly done on single membrane flat roofs when the roofing material has begun to reach the end of its service life. By adding a high-performance roof coating over your existing membrane, we can very cost effectively extend the life of the roof for another 10 to 15 years. At the end of the coating's life, we can just apply a new coating over the old one, effectively deferring the cost of a completely new roof for another decade or more.
Flat roof restoration process
1. Inspect roof for cracks and other damage. Once we get up on your roof and take a look, we'll be able to assess whether your roof is a good candidate for restoration or if it will need a roof replacement.
2. Prepare roof for new coating. A clean surface is essential for proper adhesion of the new coating. We'll remove any debris and dirt using a power washer to make sure the surface is thoroughly clean, then allow it time to dry before applying the new coating. We'll also make any necessary repairs, such as sealing leaks.
3. Apply new protective coating. We apply the new coating using a spray gun, or roller brushes when applicable. We work quickly to minimize interruption to your business, and most coatings will cure within a day or two.
U.S. Roofing has been restoring commercial and industrial flat roofs since 1979. Unlike many contractors who only take on commercial roofing jobs when the residential market slows down, we only work on commercial flat roofs and we will take on the work regardless of who installed the roof originally.
Most of our business is repeat business. Our customers tend to stick with us because of the quality of our work. When you contact U.S. Roofing, we'll explain all your options and give you an honest opinion on the best plan for your roof.
Benefits of Commercial Roof Restoration
Costs significantly less than roof replacement. Although every job differs, a roof restoration typically averages $6 to $9 per square foot while roof replacement runs $18 to $26 per square foot.
Work can be completed in a day or two and doesn't require you to close your business
Roof coatings create a seamless, waterproof membrane that stops leaks and resists ponding water
Application of a reflective coating will increase your building's energy efficiency by reflecting UV rays
Coatings used are environmentally responsible and produce no noxious fumes
Tax benefits: With roof restoration, you can take the full deduction for the cost of the work instead of recovering the cost over a 39-year depreciation schedule (per federal income tax rules).
Roof Restoration vs Replacement
A roof restoration involves making whatever minor repairs may be necessary and then applying a protective coating over the existing roofing material. This is an extremely cost-effective way to extend the service life of a roof, and can usually be done in one to two days.
We carry a full line of flat roof coatings and are happy to give you a recommendation and cost estimate for the best type of coating for your restoration project. Our industrial roof waterproofing and other services are backed by our workmanship warranty.
If your roof has degraded to the point where a protective coating won't adhere to it properly, or there is a problem with mold growth or wood rot under the outer layer of your roof, we'll likely recommend replacing your roof.
Since replacing a roof involves tearing off the old roof and installing a new one, the cost for materials and labor make roof replacement considerably more expensive than roof restoration.
When roof restoration is possible, we highly recommend it over roof replacement. In fact, it makes no sense at all to replace a roof if a roof restoration can be done. Beware of contractors who are quick to tell you a full-on roof replacement is needed. It's always a good idea to get an estimate and recommendation from experienced commercial roofers before making a decision.
Low Pitch Metal Roof Repair
Metal roofs can endure a lot of weathering, but over time Wisconsin's varied climate can cause damage resulting in leaks. In summer, temperatures on corrugated metal roofs can fluctuate rapidly as a scorching hot day changes to a rainy afternoon. In winter, water that melts and freezes between panel straps on standing seam roofs can freeze and expand pulling seams apart. Some common issues we've dealt with include:
Water pooling, or ponding, can lead to rust if the minimum pitch for a corrugated metal roof was not correctly constructed.
Gaps, punctures, or cracks caused by wear or improper construction can cause leakage.
Leaks around screws are common on older roofs, or if the screws were not sealed correctly with protective coating.
Storm and hail damage is the most common unanticipated cause of metal roof leaking.
Most of these issues can be prevented with proper roof installation and maintenance or completely fixed with professional repair. Our roofs are backed by premium weatherproofing, meticulous installation and a satisfaction guarantee. We're happy to look at any roof to see how we can best repair your metal roof. From metal roof leaks around screws to weathered roof corrosion, US Roofing can find a solution to get your building storm proof and ready for winter.
Commercial Rubber Roof Repair (EPDM)
A flat roof that leaks in heavy rain should not be ignored. Holes in rubber roofs that allow leaking can cause damage to the building structure and worsen over time. However, leaking low-pitch EPDM roofs in are uncommon, and usually the result of poor installation rather than wear. Leaking rubber roofs can be a pain to fix, and DIY solutions abound online. Even quality peel and stick rubber roof repair, roof repair tape, and rubber roof glue can cause more work further down the road if not applied correctly. For something as important as the roof over your business, leave it to the professionals at US Roofing.
What causes rubber flat roofs to leak?
Improper installation is the primary cause of a leaking rubber roof. EPDM needs to be installed up to the wall and correctly glued so that absolutely no rainwater or snow run-off can leak between the seams. Corners, walls, and pipes are classic problem areas. EPDM roofs can last decades, but regular inspections are crucial to longevity.
Another cause of rubber roof damage is shrinkage. Over time, rubber will shrink and pull away from parapet walls. If a gap occurs, rainwater can get into the decking.
How often should a rubber flat roof be inspected?
Industrial rubber roofs should be reviewed annually for damage. Prevention is the best medicine for a healthy commercial building! US Roofing is happy to inspect your roof for damage and help you find the best solution for you low pitch rubber roof repair.
How much does a rubber roof repair cost?
The short answer is that it varies greatly depending on the severity of the repair. The industry average for commercial EPDM rubber roofing material is between $2.5 – 6 per square foot, making EPDM one of the cheapest commercial roof repair options. However, the better, specific answer comes when we can see the extent of the damage after a free inspection.
Commercial roof repair & replacement in Wisconsin's biggest cities
We repair & replace flat roofing systems throughout southeast & south central Wisconsin. Not sure if you're in our service area? Just ask! Our flat roofers work in several southeast Wisconsin counties.