Commercial roofing in Janesville, WI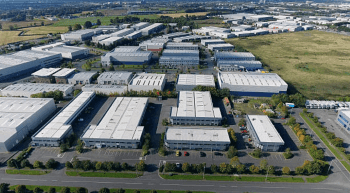 Industrial and commercial flat roof services in Janesville, Wisconsin.
Call U.S. Roofing at 920-261-7032 for a free estimate.
Get a Free Quote
U.S. Roofing specializes in waterproof flat roof systems for commercial and industrial buildings in Janesville, Wisconsin.
Because we ONLY build, repair and replace commercial flat roofs, we're able to offer very competitive pricing and unmatched expertise. On average, our superior flat roofing systems cost 10-30% LESS than other roofing contractors serving Janesville industry.
Any material, any service, no compromises
We'll install or repair your low-slope roof using the materials of your choice. Storm damage, seasonal maintenance, fixing leaks, we do it all.
Our employees are full-time roofing contractors who get in, work safely, and get out. We don't treat your business like a stage to show off. We know the local and state building codes for every industry, and make sure every flat roof system we work on meets or exceeds them.
Get a free repair/replace quote in Janesville
Our goal is to help you get the most value out of your roofing system. We have longstanding relationships with some of Wisconsin's leading industrial corporations because of our integrity, value, and expertise. If repair and restoration can safely extend the service life of your roof, we'll tell you so. When replacement is the only option, we'll minimize your costs.
Commercial roof repair in Janesville WI
Flat roof leaks can be caused by severe weather, drainage issues, membrane penetration, damaged flashing and wear and tear. No matter the reason, when your commercial flat roof is leaking, ponding or needs restoration, call U.S. Roofing for commercial roof leak repair and warrantied workmanship.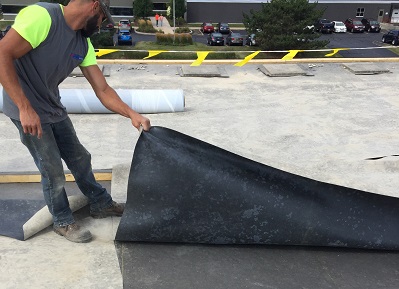 We repair & replace all types of commercial flat roofing in Janesville.
We also carry a full line of roof coatings and provide preventative maintenance for commercial roofing systems to help stop your next roof leak before it starts.
Learn more about your commercial roof repair options in Janesville:
We're your best choice for commercial flat and low slope roof repair because building and fixing commercial roofing systems is all we do. Beware of storm chasers or local roofers who earn their bread and butter on houses and only turn to commercial jobs when the residential roofing work dries up. Before you settle on a contractor for commercial roof repair, always ask about their license, insurance and referrals from past commercial roof repair jobs.
Commercial Flat Roof Services in Janesville
U.S. Roofing is a full-service commercial roofing company offering the highest quality installation, repair and replacement of TPO roofing systems. We have extensive experience working with a range of commercial and industrial buildings in Janesville including offices, grocery stores, shopping centers, restaurants, manufacturing plants, refineries, water treatment plants and more.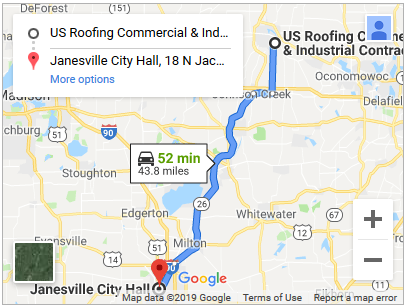 From our Watertown headquarters to Janesville City Hall:
Janesville City Hall
18 N. Jackson St.
Janesville
, WI USA
53548
...according to Google it takes about an hour. All of Janesville, its neighboring cities, and all of Rock County are within our service area for any of our commercial flat roof services:
Not sure if your flat roof needs repair or replacement? Call or send us an email, and we'll come take a look.
Industrial Roofing Contractors serving Janesville
U.S. Roofing builds, maintains and fixes non-penetrating deck roof systems for industrial buildings in Janesville. No other industrial roofing contractor offers a better product or expertise. We offer a full line of flat roof coatings and we'll work with any commercial flat roof materials you specify. If you need an expert's opinion we'll gladly take a look and make our best recommendation for your building and budget.
Free flat roof cost estimates in Janesville, Wisconsin
U.S. Roofing builds the best industrial and commercial flat roofs in Janesville. Need to get more lifespan out of your existing flat roof? We'll give you our honest opinion on your most cost-effective options for repair or replacement.
Janesville isn't the largest city in Rock County, but it's the county seat and known as Wisconsin's Park Place because it's home to dozens of improved parks (as well as golf courses, nature trails and boat launches). In 2019 the City of Janesville was awarded an Engineering Achievement Award by the Wisconsin section of the ASCE for its West Town Square project. Janesville's location near multiple interstates plus its railroad connectivity make it an ideal location for business and industry. U.S. Roofing is based in Watertown, WI, about an hour from Janesville. Our service area includes all of Janesville and the nearby cities. U.S. Roofing is proud to offer the best value in commercial roofing services anywhere in Janesville.
Milton, WI
Edgerton, WI
Fulton, WI
Evansville, WI
Magnolia, WI
Footville, WI
Orfordville, WI
Afton, WI
Emerald Grove, WI
Avalon, WI
Johnstown, WI
Koshkonong, WI
Richmond, WI
53542
53545
53546
53547
53563
Contact US Roofing today for a free Janesville flat roof consultation or estimate.