Commercial Roofing Contractors in Hartford, WI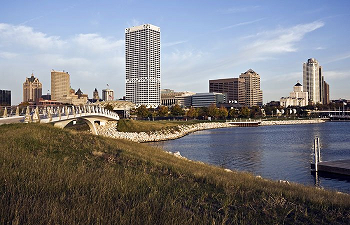 Industrial and commercial flat roof services in Hartford, Wisconsin.
Call U.S. Roofing at 920-261-7032 for a free estimate.
Get a Free Quote
U.S. Roofing is the Hartford commercial roofing company businesses and industrial corporations rely on for warrantied flat roof repair and replacement. Our headquarters are just 30 minutes from downtown Hartford, and we've served all of Dodge and Washington Counties since 1979.
Our full-time roofing contractors work only on industrial and commercial flat roofing systems. No matter what type of commercial roofing material or coating you have or are interested in, we've got you covered.
Up to code - with lower prices
Building owners and facility managers love working with U.S. Roofing because we know Wisconsin's state and local building codes backwards and forwards. Even the food processing industry, which tends to have the most stringent requirements, is in safe hands when we're on the job. Our experienced roofing crew will make sure your roofing system meets or exceeds all standards for your industry.
Save 10% to 30% on your Hartford flat roofing project
We use the latest equipment and technology and keep our overhead low. We're typically able to offer lower pricing on higher quality roofing systems compared to larger competitors in the area. We offer free price estimates on repair, replacement, and fixing other roofers' mistakes.
Commercial roof repair in Hartford
Protect your building, business, and employees with expert, warrantied roof repairs from U.S. Roofing. We have the experience and resources to repair any type of damage or wear and tear on your commercial roofing system.
Storms, faulty flashing, punctured membranes, and poor drainage can all cause leaks. Whatever led to water leaking or ponding on your commercial roof, U.S. Roofing is your best bet for warrantied repairs done right the first time.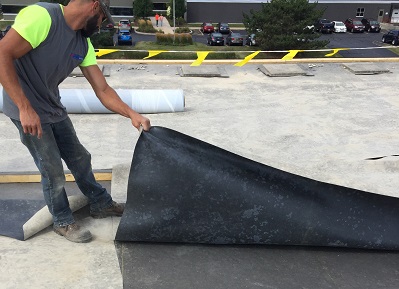 We repair & replace commercial flat roofs in Hartford.
We carry a full line of commercial flat roof coatings and sealants, and we fix flat roof systems built from any materials. We're here for any service you may need for your roof: preventative and seasonal maintenance, snow removal, winter roof repairs, and roof inspection/cleaning.
We'll always offer you our best recommendation for the safety and longevity of your roofing system. Most of our business comes from repeat customers, because we help their roofing systems last as long as possible.
Commercial roof repair information:
For reliable industrial or commercial flat roof repair, choose the local contractors who've lived and worked in your community for decades. Be wary of storm chasers or "we do everything" roofers who mainly work on houses.
When collecting quotes on commercial roof repair always ask about the contractor's license (is it current?), proof of insurance (are your property and workers protected?) and referrals from other Wisconsin clients (we'd love to share ours).
Industrial Roofing Contractors in Hartford
We repair, replace, and maintain non-penetrating deck roof systems for industrial buildings in Hartford. You won't find an industrial roofing contractor offering a better product or expertise at a more competitive price. If you aren't sure if your industrial roof needs repair, restoration, or replacement and need an expert's opinion, we'll take a look and give you our honest opinion. We're not in the business of pushing industrial re-roofing before it's really necessary. We treat every building and budget as if it were our own, and help your budget stretch farther.
Commercial Flat Roof Services in Hartford
U.S. Roofing is a full-service commercial roofing company offering the highest quality construction, repair and replacement of TPO roofing systems. We have decades of experience working with a wide range of commercial and industrial buildings in Wisconsin including office buildings, grocery stores, shopping centers, restaurants and bars, manufacturing plants, refineries, warehouses, water treatment facilities and more.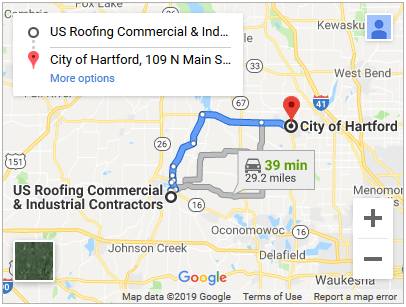 From our Watertown headquarters to Hartford City Hall:
Hartford City Hall
109 N. Main St.
Hartford
, WI USA
53027
...according to Google it takes about half an hour. All of Hartford, its 3 industrial parks and neighboring communities are within our service area for commercial flat roof services:
Whether we're your first roofing estimate or your final one, you'll be glad you called us.
Free flat roof cost estimates in Hartford, Wisconsin
U.S. Roofing builds the best watertight industrial and commercial flat roofs in Hartford. Looking to get more use out of your existing flat roof? Our salesmen have real roofing experience and will give you an straightforward evaluation of your most cost-effective options for repair or reroofing.
Located 45 minutes north of Milwaukee, Hartford's city population resides in Washington County while many industrial and commercial properties belonging to Hartford are in Dodge County. Hartford has several registered historic buildings and has been headquarters for many different manufacturing sites over the years, including Broan ventilation and fresh air systems. Hartford has a diverse industrial base, with most industries, including a printing factory, residing in one of three nearby industrial parks. In recent years, Hartford has annexed parcels of the nearby town of Hartford and other surrounding areas including Pike Lake. U.S. Roofing is proud to offer the best value in industrial flat roofing services in Hartford and its neighboring communities.
Saylesville, WI
Rubicon, WI
Cedar Lake, WI
St. Lawrence, WI
Huilsburg, WI
Woodland, WI
Neosho, WI
Thompson, WI
Ackerville, WI
Mayfield, WI
Slinger, WI
Herman Center, WI
Iron Ridge, WI
Alderly, WI
Neda, WI
Herman Center, WI
Addison, WI
Allenton, WI
Nabob, WI
St. Anthony, WI
Monches, WI
Lake Five, WI
Hartford, WI industrial parks
Dodge Industrial Park in Hartford, WI
Hartford budiness improvement district
Downtown Hartford
State Street, Hartford, WI
Innovation Way, Hartford, WI
Wacker Drive, Hartford, WI
53027
53078
53086
Contact US Roofing today for a free Hartford flat roof consultation or estimate.