Installing a roof termination bar on a new industrial flat roof in Wisconsin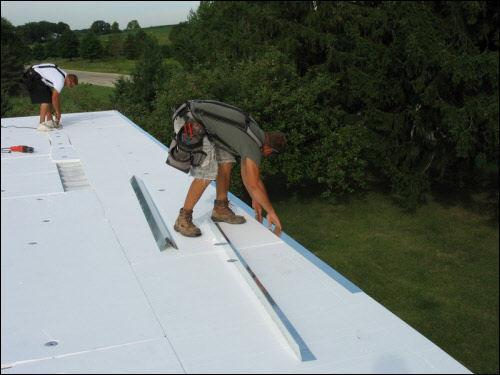 Our industrial roofing contractors get the job done right the first time, from preparing the roof deck to installing the flat roof termination bar with meticulous attention to detail. Unlike our higher-priced, lower-quality competitors, U.S. Roofing doesn't consider your business a stage to show off. We get in and get out, quietly and efficiently—you will be surprised by just how fast and unobtrusive our Wisconsin industrial roofing crew can be.
We make sure your new or replacement industrial roof meets or exceeds Wisconsin commercial building code standards. Our professional TPO roofing contractors install durable, watertight flat roof systems throughout southeast Wisconsin including Milwaukee, Madison, Janesville, West Bend and everywhere in between. See more pictures of our installers at work & request a free industrial roofing quote & consultation online.