West Bend Commercial Roofing Contractors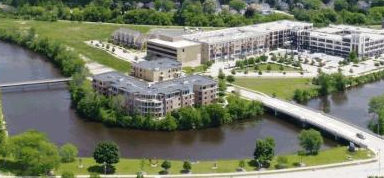 Industrial and commercial flat roof services in West Bend, Wisconsin.
Call U.S. Roofing at 920-261-7032 for a free estimate.
Get a Free Quote
U.S. Roofing is based in Watertown, WI, less than an hour from West Bend. Our service area includes all of West Bend and nearby cities: Kewaskum, Slinger, Cedar Creek, Jackson, Newburg, Richfield, Ackerville, Allenton, Neosho, Woodland, Iron Ridge, Kohlsville, Wayne and many others.
Why choose U.S. Roofing?
Our experienced roofing crew has installed all types of industrial and commercial roofs all over Wisconsin. U.S. Roofing knows Wisconsin's state and local building codes for YOUR industry and will make sure your roofing system meets or exceeds them.
We use the latest technology in the commercial roofing industry and keep overhead low. Our superior flat roofing systems cost 10% - 30% less than anywhere else. Call or email us for a free estimate!
Industrial Roofing Contractors for West Bend
U.S. roofing specializes in non-penetrating deck roof systems for industrial buildings. Whether you need a full flat roof replacement or repairs, we've got it covered.
Commercial Flat Roof Services in West Bend
We've successfully installed, repaired and maintained flat roofs for commercial buildings. We repair leaking and torn roofs and replace aged, rusted-through roofs. We also install new flat roofing systems for new buildings, including offices, malls, grocery stores, department stores and more.
Save 10% - 30% on Your West Bend Flat Roof Project:
If you're unsure your flat roof needs to be repaired or replaced, contact us for a free consultation and we'll come take a look. An expert's advice is always best!