Watertown's first & best choice for industrial flat roofing services
U.S. Roofing is located in Watertown, WI, and we take jobs in Milwaukee, Madison & everywhere in between. Call us at 920-261-7032 or send us a message for a free quote.
Get a Free Quote
U.S. Roofing has installed and repaired industrial roofs all over Wisconsin, including Milwaukee, Waukesha, Madison, Janesville, West Bend, Elkhorn and everywhere in between.
No industrial roofing contractor offers a better flat roofing product or better expertise. U.S. Roofing has been in the Wisconsin flat roofing trade since 1979—we adhere to all applicable building codes for your industry while giving you a better roofing product at a better price point.
Industrial Roofing Maintenance & Replacement
We perform industrial roof maintenance and repair to keep your current roof working for you as long as possible.
When roof replacement begins to make more sense, U.S. Roofing will install a durable, energy efficient TPO roof with a full warranty to give you decades of protection.
U.S. Roofing has installed industrial roofs for all types of Wisconsin manufacturers. The food processing industry tends to have the most stringent building code standards—we always meet or exceed the standards for your industry.
Roofing for all Types of Industrial Buildings
Our industrial roofing contractors are highly experienced, work efficiently and ensure your industrial roof repair or installation meets all Wisconsin building and safety codes.
Heat-welded seams around vents and pipes create a watertight seal that lasts.
Types of industrial buildings we protect include:
Breweries
Factories
Foundries
Power plants
Manufacturing plants
Refineries
Distilleries
Sawmills
Forges
Water treatment facilities
Industrial water & pump stations
Storage facilities
Warehouses
U.S. Roofing has longstanding relationships with leading Wisconsin industrial corporations. Flagship industrial clients include Johnsonville LLC, Pepsi, Ace Hardware, Kreilkamp Trucking and many more. In fact most of our work is made up of repeat business and referrals because our clients never have a reason to look for another industrial roofer.
For additional information about our past work or a free industrial roofing consultation, contact U.S. Roofing today.
Industrial Flat Roofing Materials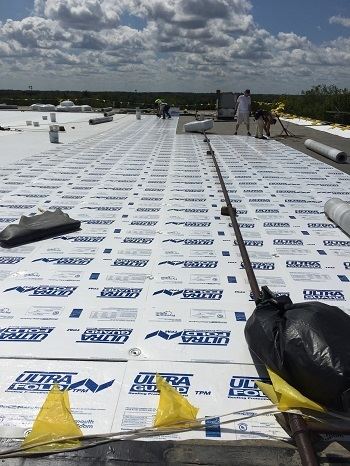 We install durable, weathertight industrial roofing to protect your building.
Some of the most popular materials used to construct industrial flat roofing systems include:
PVC
EPDM
BUR (Built-up roofing)
Modified bitumen
Liquid-applied systems
Though our experienced roofers can and will build your flat roof out of any materials you choose, we believe TPO roofing offers the highest value to Wisconsin industry.
Industrial Roofing and Insulation
Delta Foam Technologies, a division of U.S. Roofing, applies polyurethane spray foam insulation for superior insulation and protection of your industrial roof and building structures. We also carry a full line of flat roof coatings.
Industrial Roofers with Real Industry Experience
For a non-deck penetrating TPO roofing system, U.S. Roofing is the best choice in Wisconsin. Our industrial roofing crews have the acumen and experience to make your industrial roof installation or repair perfect the first time.
Schedule a free consultation with one of our industrial roofing specialists. Our salespeople have real experience working on the roofs we sell. Our goal is to educate you and help you make the best decision for your situation, not to give you a sales pitch. For the best industrial roofing services and value, contact U.S. Roofing today.
Industrial roofing contractors trusted across Wisconsin
Learn more about our industrial roof installation, repair & maintenance in south central & southeast Wisconsin:

Trusted Watertown Industrial Roofing Company
From U.S. Roofing headquarters in Watertown, WI our industrial roofing contractors work primarily in Jefferson, Dodge, Dane, Walworth, Rock, Waukesha, Washington, Milwaukee and Ozaukee Counties.
We take pride in installing high-quality, high-performing industrial flat roof systems and helping you get the longest life possible out of your roof.
In fact most of our business comes from repeat clients and referrals, because once you've tried U.S. Roofing you'll never have a reason to search for another industrial roofing contractor.