Retail Commercial Roofing Company
Roofs for Malls, Shopping Centers, & Retail Buildings
Commercial roofing systems in Wisconsin need to be built to last. The roofing systems from US Roofing Inc provide the most durable and safe materials on the market.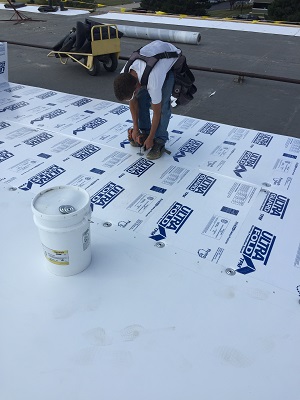 The Best Roofing Material for Commercial Buildings
Depending on the application, you may choose from a variety of modern options for your commercial roof. However, we strongly favor TPO (thermoplastic polyolefin) because of its extreme durability, ease of repair, and eco-friendly ability to be recycled and repel heat. We find that customers who chose to have TPO installed in on their retail buildings save significantly on annual operation costs, have less damage, fewer calls to repair over the decades. They generally just forget about the roof and get back to business, which is exactly what we want for you. The kinds of roofs we repair and replace for commercial spaces are:
EPDM (Rubber) Roofs
PCV (Polyvinyl Chloride) Roofs
Build Up Roofs (Asphalt) Roofs
Modified Bitumin Roofs (Modern Built-Up Roof)
Spray Polyurethane Foam (SPF) Roofs
Gravel Roofs
Acrylic Roofs
Green Roofs
Wisconsin's Reliable Retail Roofing Contractors
Wisconsin's retail buildings need to stand up to changing weather. As we all know, harsh winters, tons of snow, and scorching heat and humidity plague the SE WI area. US Roofing Inc offers expert installation, advice on materials, and continual maintenance and repair to our retail business customers to ensure the longevity of your commercial roof. From Milwaukee to Kenosha, we've climbed hundreds of roofs and prevented and repaired internal damage. We only use the best materials available, and thoroughly consider the cost-effectiveness of every individual job. Operation costs, insulation, heating and cooling, and ventilation are a few of the general factors that go into the installation process.
Retail Roofing Ventilation and Insulation
Cooling and heating a retail space can cost thousands of dollars a year. The roofing material of your commercial building will interact with the sun, rain, and snow and greatly affect the cost of maintaining a comfortable temperature, ventilation, air quality, and humidity. Knowing the impact a roof will have upfront will save money for years to come. For more information on what roof would work best for your building, contact us today.