Power Plant Roof Repair and Replacement
Flat Roof Repair for Industrial Power Plants
Us Roofing Inc installs, repairs, and replaces roofs on power plants and other industrial buildings. Our roofers are certified, trained, and efficient experts in industrial roofing systems. We thoroughly inspect every roof for damage and assess building integrity to find the best solution for your business. We work year-round to keep Wisconsin's factories, power plants, and industrial centers protected from the elements of harsh Wisconsin weather. Power plants need to keep running. We get the roof repaired or replaced without having to turn off your power systems thanks to decades of experience and professional training. Though we don't ask you to power down, we do take the safety of occupants and our staff seriously and take all necessary precautions to ensure quality.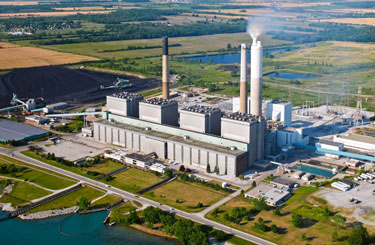 Low-Pitch Power Plant Roof Installation
If you're building a new power plant, look no further for the best resource in roofing material options. We work with the material of your choice and guarantee low prices and exceptional service for your power plant roofing project.
These are the types of industrial roof materials we offer:
EPDM/Rubber Roofs
PVC Roofs
Built-Up Roofs (Asphalt)
Modified Bitumen Roofs
Spray Polyurethane Foam (SPF) Roofs
Gravel Roofs
Acrylic Roofs
Green Roofs
Metal Roofs
To assist our power plant building customers, we've broken down the benefits and drawbacks of each type of roofing material so you can choose the best for your business needs.